The Idiots Are Coming -- You Can Take Their Money
Brace yourself…
The idiots are coming. The disbelief over last year's broad-market rally is beginning to fade. Now, poorly informed "traders" and investors are lined up and ready to start throwing their hard-earned money at the stock market once again.
Consider this 100% true (and completely serious) headline I ran across this week:
3 Reasons to Tap Home Equity to Buy Stocks
Are you kidding me?
The article goes on to explain that rates are low and, hey, stocks are much more liquid than real estate. Turn that debt into cash!
What could possibly go wrong? After all, if you make a bad trade here or there, just ditch the house and hit up your broker for a loan. The discount brokers could even make little "Hoovervilles" for broke traders who took one too many gambles with borrowed money.
I've already told you the market's stellar performance wouldn't remain a secret forever. Now, we're getting to the point where sentiment appears to be somewhere between enthusiasm and exhilaration. After waiting on the sidelines for years, the average investor is getting drawn back into the stock market…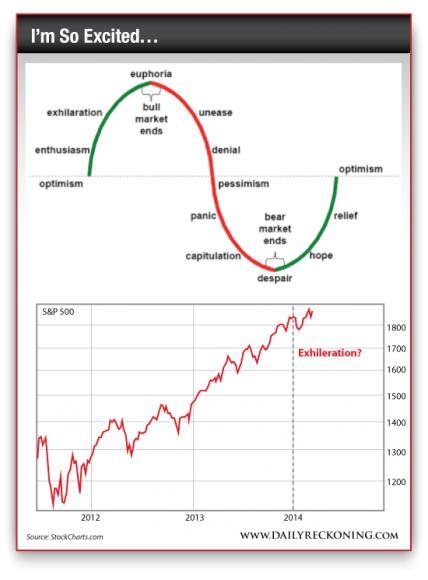 It's important to note that this sentiment stuff is far from an exact science. And there's no way to say how far along we really are on this sentiment "cycle"—or how long each phase will last. But right now, it certainly feels like public perception of the market is changing.
Use it to your advantage.
The idiots are ready to hand you stacks of money on nearly every trade. They're clamoring to invest in all the "hot stocks". They'll try to trade the news or they'll make huge earnings bets. On the other end of every single one of these losing trades? That's where you come in.
Play the charts. Buy the breakouts—and pass the stocks to the idiots when they become overextended. That's how you make money in this market…
Regards,