The Best Metals Trade of the Year
There's only one precious metals trade this year that has delivered gains of nearly 20% and counting — and it's not gold or even silver.
To get in on the precious metals story of 2014, you have to check out an often forgotten (but in-demand) metal that has soared way ahead of stocks and gold over the past five months…
I'm talking about palladium.
Palladium's story is simple yet powerful. It's useful (palladium is a key component in catalytic converters for the auto industry). And even more importantly, this forgotten precious metal has bucked the downtrend that's punished other precious metals since early last year…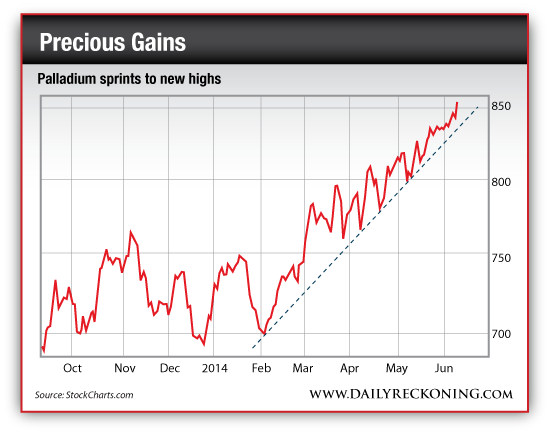 Perhaps a quick recap will jog your memory…
Way back in December, we told you the only metal worth owning going into 2014 was palladium.
The trends were fairly obvious at the time. Gold was down more than 26% on the year. Miners were off by more than 52%. Even if you lived in a cave, you remember the precious metals bloodbath.
Palladium's spot price, on the other hand, is up more than 19% so far this year. That handily beats the S&P 500, which is up just 5.5%.
So why is palladium on such an amazing run?
Much of it has to do with shortages in the platinum-group metals (PGM) supply chain — a problem that's been going on since last year.
"We're about to experience a global shortage that will drive PGM prices through the roof," "explains our own Byron King. "Why has palladium done so well? For one, it's about 15 times rarer than platinum. Second, it's the PGM of choice for U.S. automakers, who have seen most of the industry's rebound since the recession ended."
Regards,
Greg Guenthner
for The Daily Reckoning
P.S. With palladium hitting new highs this week and economic demand ratcheting up, you should expect more outperformance from the metal as we head into the second half of the year. Stay tuned to my FREE Rude Awakening email edition for access to real, actionable profit opportunities in this and other investment spaces as the year progresses. You can sign up for FREE, right here. But hurry. These investment stories are shooting up every day. And you don't want to be left out in the cold.