Step 1: Protect Your Identity. Step 2: Profit!
Hackers are back with their dirty little tricks…
Identity theft is starting to catch up to major corporations that haven't done enough to protect sensitive customer data.
Morgan Stanley just coughed up a $1 million fine to the SEC because the company did not have enough security in place to prevent a former advisor from stealing client data…
"The settlement resolves allegations related to Galen Marsh's unauthorized transfers from 2011 to 2014 of data from about 730,000 accounts to his home computer in New Jersey, some of which was hacked by third parties and offered for sale online," Trust Advisor reports.
Large-scale identity theft like this case is becoming all too common in the corporate world. Governments and private companies are now forced to play catch-up to protect people against the threat.
That's why cybersecurity will become one of the most lucrative plays of the decade. If you haven't found a way to take advantage of this new megatrend, today's your chance…
Hundreds of millions of people are getting their personal data swiped. No information is as secure as it seems and most corporations are way behind the curve when it comes to protecting your data. That's the reality of the digital world in which we now live.
Just think of all of the high-profile hacking cases we've seen over the past couple of years. Only a few months ago, three hackers were charged with stealing the data of more than 100 million customers from JP Morgan and other financial institutions. Because of the sheer amount of data these hackers swiped, officials called the attack "securities fraud on cyber steroids".
And you ain't seen nothing yet…
If you've been hanging around these parts for a while, you've already had quite a few opportunities to make dough on cybersecurity stocks. But the past few months haven't been bullish for the industry. In fact, investors have kicked most of my favorite cybersecurity plays to the curb. They've needed to blow off some steam…
The PureFunds ISE Cyber Security ETF (NYSE:HACK) had a particularly rough start to the year. After crashing 25% during the first six weeks of 2016, this industry is just now beginning to dig itself out of the hole…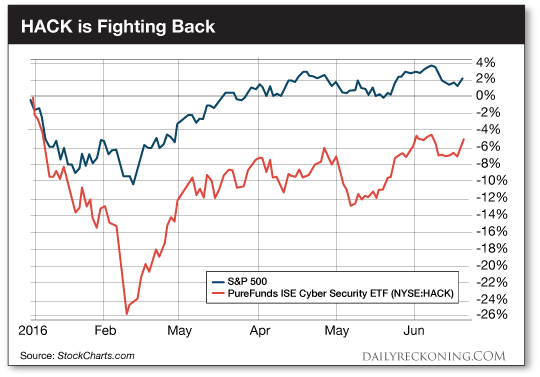 As cybersecurity stocks continue to recover, big money is starting to take note.
Our cybersecurity trade of the yearImperva Inc. (NYSE:IMPV) jumped more than 12% yesterday on the news that Paul Singer's Elliott Associates took a 10% stake in the company. The double-digit move helps IMPV finally recover from its nasty earnings gap lower from back in May.
Imperva's approach is different than most cybersecurity firms because it looks to protect companies from insider break-ins, which account for 45% of all data breaches (the Morgan Stanley incident we mentioned earlier was an insider problem). Corporations will be lining up for that kind of protection in the coming months and years. It's a trend that's just starting to ramp up…
Due to an ornery market earlier this year, we initially told you to start by buying a half-size position in IMPV back in early January.
"If the world doesn't end, we can load up at a later date," we said.
Well, the world didn't end. And the market is giving you a great opportunity to load up on IMPV shares this week.
If IMPV can ride its newfound momentum, you could be sitting on substantial gains in a few months as the sector continues its red-hot recovery…
Sincerely,
Greg Guenthner
for The Daily Reckoning
P.S. Can cybersecurity stocks recover? Stay up to date on the market's latest trends — sign up for my Rude Awakening e-letter, for FREE, right here. Stop missing out on the next big trend. Click here now to sign up for FREE.