Solar Just Crossed a Major Threshold – Get in While There's Still Time
Welcome to the 1 percent!
No, not you silly. I'm talking about solar.
Solar has finally taken its first step toward becoming a legitimate energy player. As of right now, solar provides 1% of the world's electricity. And today you've got a chance at some red hot gains off a short-term solar play as solar use expands by the day…
Yes, solar has entered the 1%. It took 40 years to get there, according to Ramez Naam's blog. But it won't take another 40 years for solar to get to 2%…
Using independent industry projections, "it will take 3 more years to get the second 1%," Naam explains. "Then less than 2 years to get the third 1%. And by 2020, solar will be providing almost 4% of global electricity."
That might not sound like a lot, but it is. That represents massive growth from today's numbers.
No way around it, solar is becoming a force to be reckoned with. It's not about whacky environmental types anymore. And it's no longer a foolhardy speculation on Wall Street. Solar firms are growing faster and faster. And investors with the foresight to grab onto this trend (and hold on tight) could mint a fortune.
Just look at how quickly it's grown over the past five years…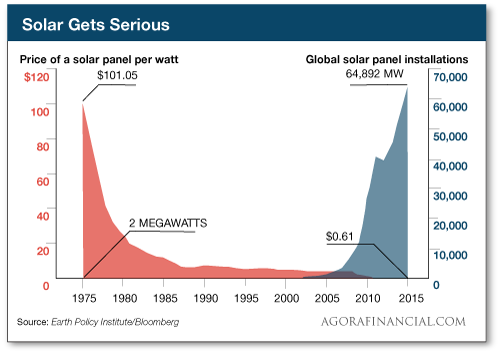 "Over the past few years, many graphs have been worth thousands of words on the rise of solar power," write the folks over at Treehugger. "It's almost impossible to overstate how important the revolution that is happening right now is, and like most transitions, most people will only realize what's going on after it's mostly over."
Sure, those hippies are writing about alternative energy. But what do you expect? They're hippies. Most folks still don't believe solar will ever amount to anything more than a drop in the energy bucket. But the projections we're reading today say otherwise. And once the herd catches on, the big money will have already been made.
Earlier this month I tipped you off to a resurging Guggenheim Solar ETF (NYSE:TAN). We're no stranger to trading this solar ETF here at Rude HQ. And since you had the opportunity to hop back in, it's quietly traded sideways. This trade continues to hold well above its $40 bounce zone, and I'd expect it to move higher sooner rather than later…
The solar trade is about to speed up. Get ready to make hay while the sun shines.
Regards,
Greg Guenthner

for The Daily Reckoning
P.S. The future's bright for solar. If you want to cash in on the biggest profits this market has to offer, sign up for my Rude Awakeninge-letter, for FREE, right here. Stop missing out. Click here now to sign up for FREE