Pot's Biggest New Market: Geezers and Grandmas
"It's crazy," my cab driver told me as we cruised down a side street near the Las Vegas strip. "These dispensaries keep popping up everywhere."
Recreational pot is now legal in Las Vegas. Explore a few blocks east or west of the strip and you'll likely stumble upon a glitzy dispensary that caters to locals and tourists. They're easy to spot— mainly because all of them have long lines spilling out the door onto the sidewalk. It doesn't matter if it's early morning or late at night, one local told me, if the shop is open, you probably have to wait to get inside.
Legal weed has only been around about four months in Las Vegas. But word is getting out. It's not just your typical potheads who are enjoying their newfound freedom. I saw businessmen in suits and middle-aged women from the Midwest waiting in line to score a joint. I even walked past a group of baby boomers in polo shirts and khakis trying to talk their way to the front of the line. They said they'd get in big trouble if they didn't get back to the hotel in time to take their wives to a 7 o'clock show.
But even though weed is technically legal in Vegas, there's nowhere to safely smoke outside a private residence. Casinos still maintain a "no pot" policy on their properties. It's also illegal to smoke marijuana on the street or at the dispensary where you buy it.
None of these technicalities deterred anyone I interviewed. In fact, I came across more than a few groups of tourists discretely lighting up all over town.
It's clear public opinion on legal marijuana is quickly changing. Just a decade ago, 60% of Americans believed weed should remain illegal. That number has now plummeted to 37%.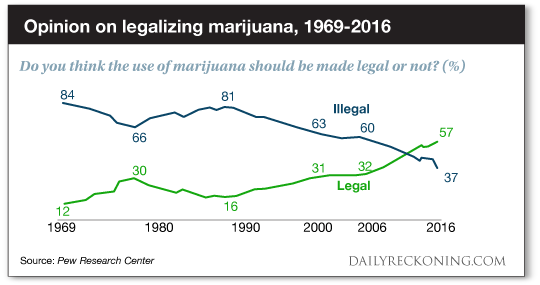 Even geezers and grandmas are down to get high these days. And the sudden shift in how Americans view pot is causing some panic among the ranks of the market's sin stocks.
[Editor's note: The wave of legalization is triggering once-in-a-lifetime opportunities in a few select pot stock plays. In fact, my colleague Ray Blanco has been all over these tiny pot stocks for months. Click here to get all the details…]
Last week, I told you how alcohol distributor Constellation Brands Inc. (NYSE:STZ) is buying a 10% stake in Canadian medical marijuana firm Canopy Growth Corp. (TSE:WEED). I noted how a major alcohol distributor buying a marijuana company would have been unfathomable just a few years ago. But with legalization gaining steam nationwide, this deal is shaping up to be one of many to come in the industry.
Not to be outdone, industry behemoth Molson Coors Brewing Co. (NYSE:TAP) announced it might soon throw its hat into the ring.
"Obviously, being based here in Colorado, we're very familiar with cannabis, as it's been legalized here. And clearly this is something that, as the whole legal landscape continues to change, we're actively working to understand," CEO Mark Hunter said during a conference call late last week. "We have a team of people working on that. We're looking at potential impacts and/or the opportunities associated with and we're developing a range of responses."
That's a bold statement from the leader of one of the biggest brewing operations in the world.
Hunter is no dummy. He's seen the statistics that prove consumers are beginning to view alcohol as a more harmful substance than marijuana. As pot use becomes more socially acceptable, the harmful health effects of booze are coming into focus. Attitudes of consumers — especially health-conscious young people — are becoming a genuine threat to the alcohol industry.
The narratives surrounding the health side effects of booze and pot are quickly changing. Companies that embrace legal weed will flourish. Those who shun it will be left behind. It's that simple…
Sincerely,
Greg Guenthner
for The Daily Reckoning