How to Pocket Bull Market Profits While Stocks Drop
Stocks are slipping back into the abyss. Investors are smashing the sell button after a 10-week run that helped the major averages recover from a dismal start to the year.
The Dow coughed up another 100 points yesterday. The S&P has dropped four out of the past five trading days. And the Nasdaq Composite continues to lead us lower, fueled by a nasty tech wreck that's chopping apart some of the biggest names on the market.
So you have a choice…
You can cash out of the markets, change into your pajamas and cry into a pint of ice cream. Or you can adjust your trading strategies and embrace the volatility.
We haven't enjoyed ideal trading conditions for a long time. Ever since we got a Dow Theory sell signal back in August, stocks have chopped most investors to bits with wild swings in both directions.
But that doesn't mean you're forced to sit on the sidelines. You can make money when the market goes down—and you don't need any complicated strategies to get in on the action.
Today, I'm going to show you how to pile up gains when the market is retreating. These three simple strategies don't require any special skills. And you won't have to short a single stock.
Let's get started…
1. Ride out the volatility with a big-name winner that's bucking the trend.
Let's assume you've already trimmed your portfolio down to your strongest holdings. You and your fellow investors have dumped plenty of stocks lately. But not every stock is dropping with the market. There's always a bear market wonder or two that ignores the major averages and plows higher.
You should already own one of them.
Facebook (NASDAQ:FB) is poised to become the next bear market wonder. Facebook is listed on the Nasdaq. It is a tech stock. Common sense would tell us shares should retreat this month along with its peers.
That ain't happening…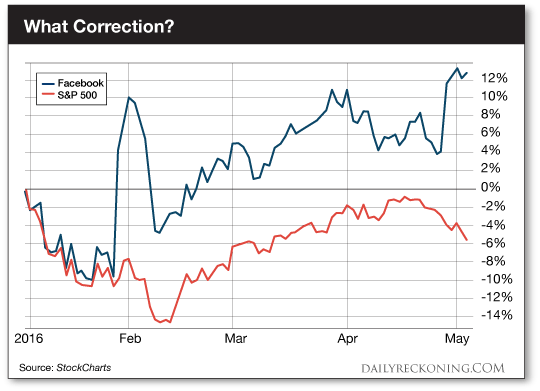 Facebook shares are up more than 12% this year while the Nasdaq Composite is down nearly 6%. While most stocks are struggling, Facebook shares continue to push to new highs.
This is the type of stock you need to own when the excrement hits the fan…
2. Find the safety trade.
Whenever a storm is brewing, investors predictably flock to a handful of safe sectors. So as the market continues to sag, we should ask ourselves an important question:
What boring stocks are investors piling into as the market takes a beating?
They aren't difficult to find. Check out this heat map of yesterday's market action:
That's not very much green on the screen. But there are some concentrated areas of gains. REITS (bottom left), consumer staples (lower center) and utilities (bottom right) stand out. These are the "risk off" stocks investors like when the going gets tough. It can't hurt to load up on a couple of these names in this environment…
3. Bet against the market—without shorting individual stocks.
When it's time to get tactical and bet against stocks, inverse ETFs work well for short-term trading.
Stocks are more heavily correlated in down markets—meaning they all tend to move more or less in the same direction day by day, whereas we see more of a market of stocks in uptrends. So there's no need to try and pick out individual names to short if we believe the market is on the verge of breaking down.
However, jumping into a big short trade at the wrong moment can prove disastrous. Market moves lower are swift and merciless, as we've witnessed this year. And as you already know, some of the biggest short-term rallies can materialize during bear runs. When the market's in flux, anything goes. We certainly don't want to short into the hole and end up on the wrong end of a painful trade.
That said, I do think the inverse ETFs are the way to go when it comes to short-term trades. You should never hang onto inverse ETFs for more than a couple of weeks.
I'll be keeping a close eye on all of these opportunities as we head toward the end of another volatile trading week…
Sincerely,
Greg Guenthner
for The Daily Reckoning
P.S. Make money in a falling market–sign up for my Rude Awakening e-letter, for FREE, right here. Stop missing out on the next big trend. Click here now to sign up for FREE.