Obama's Secret Russian "Buy" Signal
While the Russians goose step across Crimea, President Obama may have just unleashed a secret buy signal for Russian stocks…
The signal was delivered by the White House press secretary — who is apparently moonlighting as a financial advisor. I wish I was kidding. But it's true. Here's a direct quote from Jay Carney's press conference just the other day:
I wouldn't, if I were you, invest in Russian equities right now… unless you're going short.
Thanks, Jay.
After hearing that doozy on the news, I immediately pulled up my charts. Could Russia actually turn into the market's ultimate contrarian play?
"In Carney's defense, he is currently pushing a foreign policy agenda that may not have your portfolio's best interest at heart," explains Rude researcher Noah Sugarman. "But as far as investment advice goes, this would-be analyst could be dead wrong here."
The Crimean crisis has made Russian equities dirt cheap by any standard, Noah reports. The MICEX Index, which tracks the 50 largest and most liquid Russian stocks, carries a trailing P/E ratio of just 4.30. All of the other big Russian ETF's hover in the same range, too.
Compare that to the trailing P/E's of other arguably "cheap" emerging market ETFs. China clocks in with a P/E of 9.39. Brazil sits at 11.72. Even India stands at 15.49.
But what's really interesting about the Russia situation is the chart…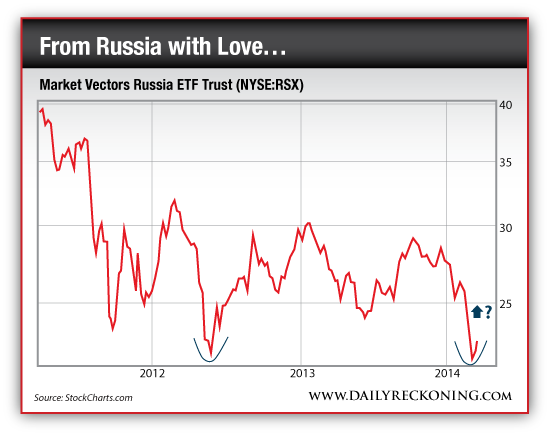 Here we have a potential bottom in the works. During the height of the crisis, the Market Vectors Russia ETF Trust (NYSE:RSX) briefly dipped under its 2012 lows. However, Russian stocks have made a sharp recovery over the past two weeks. Yesterday, RSX gained more than 3%.
So we have a play here that's cheap and has an intriguing chart. Of course, I have no idea how the Crimea situation will play out. The region will likely remain highly volatile for some time…
But right now, you have the opportunity to take a swing at Russian stocks with RSX. A snapback rally could ignite shares and give you the chance to book quick gains. Just set your stops at this month's lows and let the position work for you.
If you have a plan like this in place, you can buy the blood in the streets without an insane amount of risk…
Regards,
Greg Guenthner
for The Daily Reckoning
P.S. The situation in Crimea is impossible to predict. But I'll be keeping a close eye out for any investable ideas as the whole mess plays out… and giving them straight to my Rude Awakening email readers. If you're not currently receiving the Rude Awakening email edition, make sure you sign up for FREE, right here to get the full story.