No Stock Can Touch This Powerful Breakout
If you're suffering from market-induced whiplash this morning, we recommend you seek immediate medical attention…
The major averages reversed course again, dropping deep into the red on Tuesday. The Dow shed more than 250 points. Monday's recovery rally just didn't stick.
But all is not lost. We're still finding potentially profitable setups even as the major averages break down. In fact, the market's flashing another strong signal is the face of all the recent turmoil.
Earlier this summer, we altered you to one of the most powerful comeback trends in the world. In fact, this standout star is giving you a clear shot to bank gains of up to 40% by early next year—no matter what happens to the stock market over the next few months.
The market-beating trend we're talking about comes courtesy of natural gas…
Back in June during the Brexit breakdown, natural gas was marching to year-to-date highs—even though crude was breaking below $50. After an abysmal start to the year, natty was catching a bid and outperforming the major averages.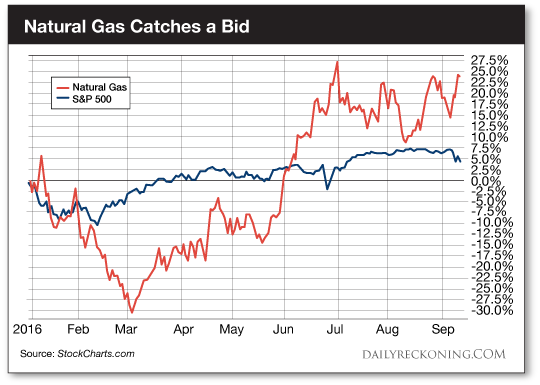 Most folks aren't paying a lick of attention to natural gas right now for a couple of big reasons. First, poor performance from natty earlier this year scared away even the most patient investor as it fell to lows not seen since the late 1990s. And crude's erratic behavior in 2016 has frustrated anyone attempting to hold onto a position for longer that a week…
But as the markets limped into the third quarter, we suspected that natural gas had finally hit rock bottom.
Why?
Over the past 20 years, natty has staged powerful rallies every time its spot price has sunk below $2. Even back in 2012 (when natural gas was still blowing off steam from its 2008 peak) natty ripped off a yearlong rally that sent the spot price from $2 to $6.
Sure enough, natural gas caught a bid and rocketed back above $2 back in April. By early June, natty was off to the races. And as this month's rally develops, we have a nice good shot at finally seeing natty break above $3. This is a major resistance area that natural gas has fought since June.
While a cratering stock market and potential rate hikes continue to distract investors, a huge opportunity is quietly setting up in natural gas.
We continue to see natty as a powerful contrarian trade—even as it once again approaches its recent highs. Everyone's too caught up in stock market drama right now to even notice that natty's about to post a huge move.
A little momentum here could sett the table for an even bigger move that could finally snap natural gas' ugly long-term downtrend…
Sincerely,
Greg Guenthner
for The Daily Reckoning
P.S. Profit from the breakout that no one is watching — sign up for my Rude Awakening e-letter, for FREE, right here. Never miss another buy signal. Click here now to sign up for FREE.