How Your Mexican Beer Buzz is Putting Cash in Your Pocket...
If you're still nursing your Cinco de Mayo hangover this week, you've unknowingly helped one of your strongest trades push to new highs…
That's no small feat in these market conditions. Stocks went nowhere yesterday while metals and oil were met with heavy selling. Some of the year's biggest winners took one on the chin.
While the market continues to frustrate most investors this year, booze is becoming a bright spot for buzzed traders. And after a raucous Cinco de Mayo, a new king of Mexican beer has emerged in a very unlikely place.
Our favorite liquorstock is now banking on Mexican beer brands. In fact, Mexican brands are rapidly gaining market share in the U.S. even as the craft beer bubble continues to dominate the media hype.
While beer's big boys like Anheuser-Busch InBev continue to play catch-up in the craft beer game, Constellation Brands (NYSE:STZ) is banking on big growth from its newly acquired Mexican beer brands…
"Constellation was awarded the U.S. rights to the Grupo Modelo brands and, after sealing a $4.75 billion deal with A-B InBev in June 2013, began producing beer for the U.S. market at a facility in Nava, Mexico," MarketWatch explains. "By the middle of 2015… Mexican beer sales made up 7.8% of all U.S. beer sales by volume."
I warned you earlier this year that the beer market might be getting a little too frothy. Too many craft beers – yet not enough craft beer drinkers to keep everyone rolling in profits. The craft beer biz is overstretched. The number of craft breweries has more than doubled over the past six years, according to Fortune. There's a new craft brewery opening in the U.S. every 12 hours.
But as MarketWatch notes, Mexican brands are growing at the same clip as the craft beer segment. And Mexican brands control a bigger market share than craft, too. That's one of the reasons Constellation shares continue to push new highs…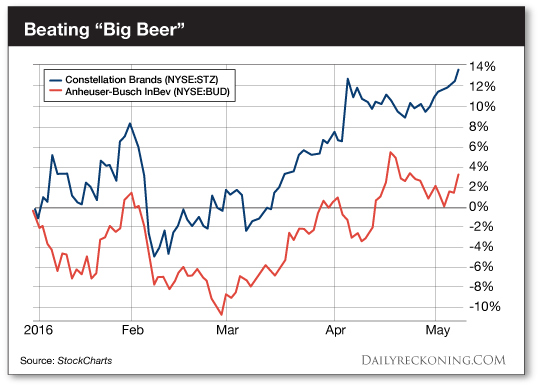 Beer is a tough business right now.
We all know that folks aren't guzzling Budweiser like they used to back in the day. So Big Beer is putting its money to work buying up the craft beer companies looking to cash out. The little guys that are lucky enough to sell out will be fine. But the others might not end up so fortunate.
Plus, young people aren't drinking as much beer as previous generations. As it turns out, millennials prefer wine and liquor. And this trend doesn't look like it will reverse anytime soon. That's bad news for craft brewers and the big beer barons. But when it comes to alcohol, Constellation has positioned itself perfectly with its Mexican brand acquisitions, wine and liquor.
That's a combination that has this stock dancing to new highs once again this week.
Constellation is up 10% since we jumped on this stock last month. And after yesterday's breakout to new all-time highs, we can expect the stock to continue to power higher.
Sincerely,
Greg Guenthner
for The Daily Reckoning
P.S. Whether the market is going up, down or sideways YOU can pull out impressive gains–sign up for my Rude Awakening e-letter, for FREE, right here. Stop missing out on the next big trend. Click here now to sign up for FREE.