Janet Yellen Launches New Ladies Fragrance
If you thought printing $3 trillion out of thin air and buying government bonds was experimental, you ain't smelled nothin' yet.
"They said it couldn't be done," announced a Chanel spokesperson this afternoon.
And yet here it is… a fragrance that smells like low interest rates: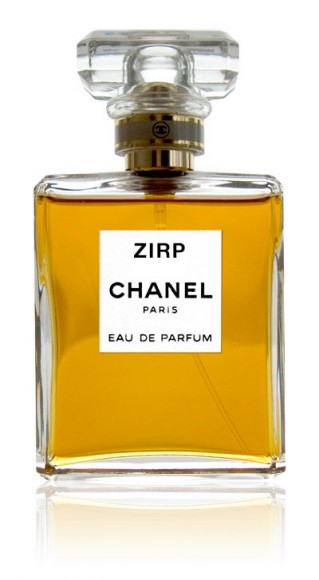 "Zero Interest Rate Perfume" by Chanel.
The pungent scent was inspired by none other than Janet Yellen, chair of the Federal Reserve.
"With the female unemployment rate remaining persistently high," Yellen told reporters at this afternoon's Fed press conference, "the Federal Open Market Committee has unanimously voted to partner with industry leader Chanel to produce a parfum for ladies.
"Our hope is twofold," she continued. "First, that women will feel more confident wearing ZIRP when they go to an interview, which should, all else held equal, help them get the job they want.
"And second, that because of that confidence, consumer demand for the perfume, and therefore, spending, will be stimulated. We believe this is consistent with our dual mandate of stable prices… and maximum employment.
"Besides," Yellen added, "you don't think I broke through the glass ceiling just by rocking my trademark pantsuits, did you?
"No, sirs — let me give you a little 'forward guidance,'" she snickered, leaning forward and shaking a bottle of ZIRP at reporters, "it was a spritz of this stuff on the wrists each morning. Let me tell you… every time I walked into the FOMC boardroom, all the governors' heads would turn…"
Early reviews of the essence seem to contradict each other, with some saying ZIRP smells like "an old lady"… while others detect a hint of "dirty wrinkled $20 bill"… with some others sensing "nothing at all."
"The problem is," explained an aroma industry veteran, "no one's ever smelled an interest rate before — especially the low, low one's we're seeing today."
Fortunately, in an attempt to extend an olive branch to her critics, Yellen sent pre-release bottles of ZIRP to her biggest hump-busters — including your editors here at The Daily Reckoning.
We took to Charm City's streets to get the would-be working woman's perspective…
"I was wondering when the Fed was going to do something about this serious issue," Elaine Johnson, tenured faculty member of the University of Baltimore's Gender Studies department, told us over the phone.
"This is exactly why we need an audit of the Fed," said one 20-something-year-old who took a whiff. Presumably, he was a Rand Paul supporter. "We have no idea how much the Fed printed to provide this experimental liquidity measure. The American people have a right to know!"
"*sniff*…*sniff*… Smells like a bunch of bull$hit to me," grumbled another jaded middle-aged man we stopped on St. Paul Street. He was in a rush.
ZIRP by Chanel will retail for $700 in all major department stores starting June 20, 2015. All profits from sales will be remitted back to the U.S. Treasury.
Stocks and Treasuries rallied after being blindsided by the news. At writing, the S&P 500's giving onlooking investors neck cramps as the index soars past 2,351. A 10-year note yields 1%.
Gold, on the other hand, was roiled. Just minutes after Yellen's announcement the yellow metal began a $100 free fall that shows no signs of stopping.
Regards,
Peter Coyne
for The Daily Reckoning
P.S. Be sure to sign up for The Daily Reckoning — a free and entertaining look at the world of finance and politics. The articles you find here on our website are only a snippet of what you receive in The Daily Reckoning email edition. Click here now to sign up for FREE to see what you're missing.