Is a New "Beer Bubble" About to Burst?
It's time for you to go and wet your whistle at your local brewpub. They're gonna need all the help they can get…
The craft beer industry is taking hit after hit these days.
First, the big boys are encroaching on their turf. Anheuser-Busch InBev is preparing to takeover SABMiller. That's the biggest brewer on the planet scooping up another giant. Combining these brewers will create a $276 billion company with annual sales of $55 billion. That's a lot of suds.
And since folks aren't guzzling Budweiser like they used to back in the day, Big Beer is putting its money to work buying up the craft beer companies looking to cash out. The little guys that are lucky enough to sell out will be fine. But the others might not end up so fortunate…
I warned you last year that the beer market might be getting a little too frothy. Too many craft beers – yet not enough craft beer drinkers to keep everyone rolling in profits. The craft beer biz is overstretched. The number of craft breweries has more than doubled over the past six years, according to Fortune. There's a new craft brewery opening in the U.S. every 12 hours. It's unsustainable.
The sheer number of unique beers available to consumers is staggering. The craft beer market is drowning in products, notes Jason Notte in his MarketWatch column.
Notte says the number of stock keeping units (SKUs) has tripled to 7,400 in seven years. That's a lot of brewskies.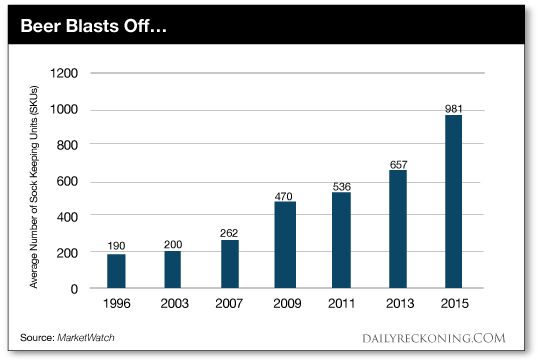 Despite the huge growth in the number of craft beers available to consumers, the majority of sales come from the biggest craft brewers.
"According to data from IRI, a Chicago-based market research firm, 48.85% of all craft beer sales came from the top 10 brands alone: Samuel Adams, Sierra Nevada, New Belgium, Shiner, Lagunitas, Small Town (Not Your Father's brands), Deschutes, Stone, Goose Island and Bells," Notte reports. "A whopping 62% come from the top 20."
And it gets worse for the brewers…
Millennials aren't drinking as much beer as previous generation. The younger kids prefer wine and liquor. And this trend doesn't look like it will reverse anytime soon…
"Already major companies like Anheuser-Busch, MillerCoors, and Heineken have been getting worried about millennials' love of wine," Business Insider reports. "In fact, Wine Spectator found that millennials consumed 42% of all wine drunk in the US in 2015 — aka more than any generation."
I didn't find a single chart I liked sorting through a list of brewers—big and small. These stocks are all stuck in neutral or headed lower. There could be considerable pain in this industry in the near future if current trends continue.
Sincerely,
Greg Guenthner
for The Daily Reckoning
P.S. Make money in a falling market–sign up for my Rude Awakening e-letter, for FREE, right here. Stop missing out. Click here now to sign up for FREE.