Ignoring the "Permanent Recession"
Stocks are finally giving back some ground this morning. The major averages are all in the red, adding to yesterday's losses.
You already know how strong the market's been this summer. If the S&P holds red today, we'll experience the first 3-day losing streak since June 10-12— and just the fourth of the year. That's a solid seven months of bullish action with very few shakeouts…
However, most Americans just don't see it that way. Pick through a half dozen polls of your choosing. You'll find that most people don't even think we've broken free of the recession.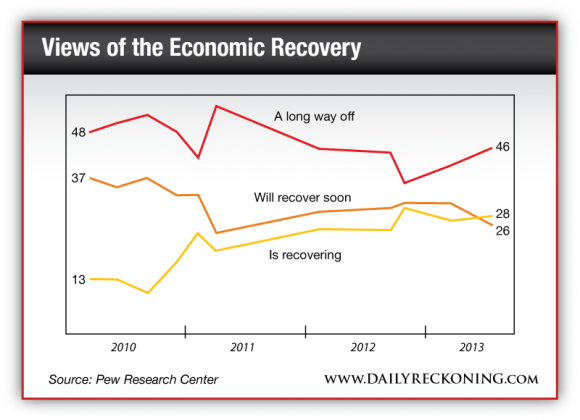 Four years beyond the actual recession, most folks see economic recovery as a long way off. And the number of people who believe the economy will recover soon is actually shrinking…
Still don't believe it? Here's another one:
"The economy may be sputtering along. But it hasn't been in recession for more than four years. More than half of Americans think it still is," reports the Wall Street Journal.
"A majority of people – 54% – in a new McClatchy-Marist poll think the country is in an economic downturn…"
There are countless reasons for ordinary investors to feel bearish right now. The economy is squishy, wages are stagnant, unemployment remains elevated… I could go on and on. This disconnect is precisely why a raging market and new highs simply aren't registering with most people. It's not even on their radar.
Use it to your advantage. The market is slowly retreating this week. This will set up another fantastic buying opportunity for longer-term investors. Don't squander it…
Regards,