How to Squeeze Double-digit Gains Out of the Market Today
Wanna make double-digit gains in just a few weeks?
Good. Today I'm going to show you how to pull it off. How? Here's a hint: We're going to squeeze 'em out of the markets…
Let's say you're watching a stock that just hit 6-year lows. The company's in deep trouble. It missed earnings and sales expectations—again. And there are plenty of short sellers circling. In case you don't know, short sellers bet on a stock going down. More importantly, they have to buy the stock in order to close out their position.
So what happened next when you get a positive catalyst?
Bam! The stock unexpectedly shoots higher. Short sellers scramble to cover their bets, buying back shares and igniting an even bigger move higher. And all of this buying quickly drives up the stock price.
When the dust finally clears, the stock's gained more than 10% in a single trading day. That's enough to spark an even bigger bounce in the weeks ahead, netting alert traders quick gains.
The scenario I just described is what's known as a short squeeze. In fact, the exact event you just read unfolded less than a month ago as shares of Abercrombie & Fitch mounted an unexpected rally. Take a look for yourself: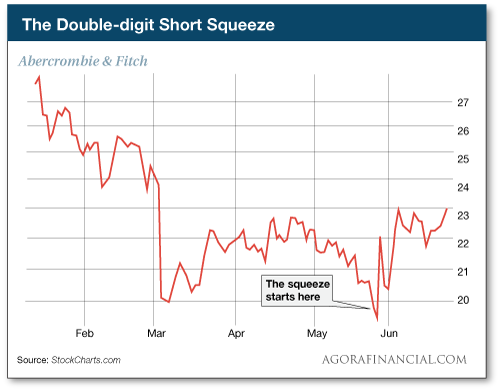 Man, that happened fast! Abercrombie shares are up almost 19% from where the stock bottomed out late last month. And right now I'm seeing tons of potential short-squeeze setups popping up across the market that you can jump on.
Here's why…
All short squeeze candidates have one main thing in common: They all have plenty of investors betting prices are going to fall. The "squeeziest" stocks have short interest of at least 20%. That means nearly a quarter of available shares are tied up with traders betting prices will fall.
With so many investors expecting lower prices, any optimistic news (hell, even just not terrible news) can trigger a powerful short squeeze. That's how you get the huge pops like ANF delivered.
I just ran a scan for potential short squeeze opportunities—and found almost 200 stocks with abnormally high short interest. That's no surprise in this market environment. As I've been telling you, there aren't a lot of blind bulls left out there—even though the market is near all-time highs.
And this pessimism is the fuel we need to put the squeeze on the shorts. We're going to make money off their pessimism.
Of course, not every single one of the 200 stocks on the market with high short interest will deliver a squeeze. There are some dogs on this list—that's for sure. You can't just buy a heavily shorted stock without some finding solid evidence pointing to a pop. Be sure to consult your charts for more clues.
It's time to rip some money from the hands of nervous short sellers this week. It's going to be a blast watching 'em squirm…
Regards,
Greg Guenthner

for The Daily Reckoning
P.S. Squeeze money right out of the market! If you want to cash in on the biggest profits this market has to offer, sign up for my Rude Awakeninge-letter, for FREE, right here. Stop missing out. Click here now to sign up for FREE