How to Ruin Two New Trades in Just One Day...
Not 24 hours after the marijuana miracle hinted it was safe to trade the bottoming biotechs, the biggest train wreck in the sector flew off the rails. Again.
"Shares of Valeant Pharmaceuticals (NASDAQ:VRX) tumbled nearly by half on Tuesday after the company cut its 2016 revenue forecast by about 12 percent and said a delay in filing its annual report could pose a debt default risk," Reuters reports.
By mid-afternoon the hedge fund darling was down more than 45%. Yesterday's gut punch was just the latest in a series of embarrassments for Valeant that have decimated the stock over the past eight months. All told, Valeant shares are down more than 85% from all-time highs posted in July 2015.
Does Valeant's freefall mean we're abandoning our recent foray into biotech? We'll get to that in a second. But first, check out how far Valeant has plunged…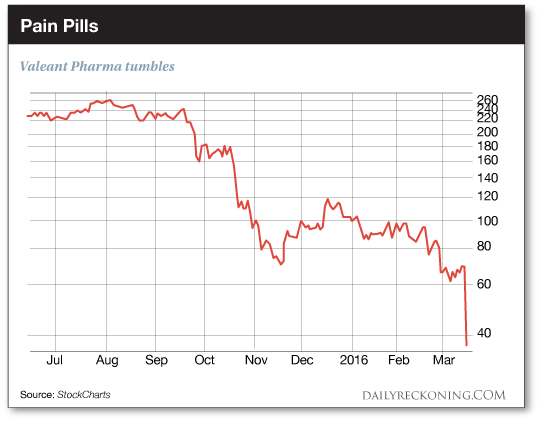 That's not pretty. But hey, it could be worse. You could be Pershing Square Capital's Bill Ackman. He's been riding this sucker all the way down from its highs. In fact, he bought shares again just last week. All told, his paper losses add up to nearly $1 billion so far.
It looks like the black clouds that were clearing over the biotech sector are back. And that's bad news for us. The latest drama in the Valeant soap opera has squashed what little progress has been made by the Biotech iShares since last week. After yesterday the Biotech iShares could very well tumble back to their February lows. We're looking at a rally that's quickly falling apart: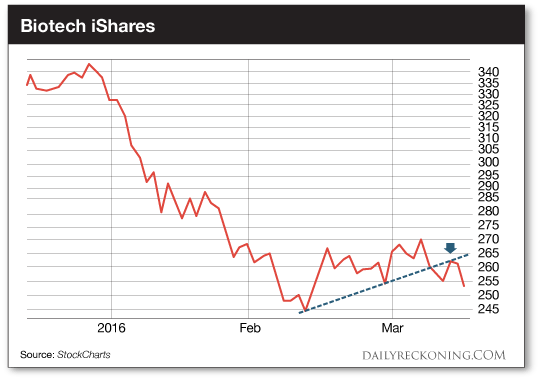 I told you yesterday that we hadn't seen a follow through in either the Biotech iShares or the S&P Biotech index after an initial bounce. Instead of hitching our wagons to either of these plays, we were looking at promising individual biotechs that were beginning to perk up.
Our intention with these biotech trades was to get in, take whatever gains we could get, and sell out. Now that the market has abruptly moved against us, it's time to take the money off the table.
Our trades posted snappy initial breakouts. But these breakouts are quickly stalling. With more negative biotech news hitting the wire, traders are getting out fast. And so are we.
So it goes. Unfortunately, not all breakouts give us the follow through we need to book gains. This is one of those times when you have to just drop everything and sell. It's a heck of a lot better than sitting around waiting for a turnaround that doesn't materialize—that's for sure.
False breakouts like the ones we're seeing in biotechs can be incredibly dangerous traps for traders. I don't think it's wise to sit around holding these stocks and waiting to see what happens. That's a great way to pile up losses (just as Ackman). Hope is a toxic emotion when it comes to short-term trades. We have the opportunity to get out with just a small ding now—so let's do it.
Once again, the market is in flux today thanks to the Fed. We get a decision on a rate hike at 2 p.m. Eastern. There's a ton of speculation floating around out there. But ultimately, no one knows what will happen—or how the market will react. We'll just have to wait and see…
Sincerely,
Greg Guenthner
for The Daily Reckoning
P.S. Stubborn traders never win –sign up for my Rude Awakening e-letter, for FREE, right here. Pull profits from the market whether it is going up, down or sideways. Click here now to sign up for FREE.