How to Profit from Panic
What did you do yesterday, buy a new mattress or something?
While you were taking advantage of all those President's Day sales, the rest of the world's markets were open for business. And stocks were jumping everywhere…
Japan led the way in Asia, with the Nikkei spiking more than 7%. China's Shanghai Composite reopened after their New Year hiatus—and it didn't crash! Markets across Europe posted bounces. And S&P futures extended their gains stateside.
Looks like markets are desperate to post some powerful oversold bounces after a hellacious start to the year.
Today you're going to see how these oversold rallies materialize. You'll even get an inside peek at how you can trade 'em for some nice, fat gains…
And we don't have to go too far back to find a good example of an oversold pop. Just look at oil's double-digit rally on Friday. Crude jumped 12%. That's its largest single-day gain since 2009.
The catalyst seemed innocuous enough: the United Arab Emirates energy minister jawboning about a potential OPEC production cut. Reduced supplies should drive up oil prices. Time to buy, right? That's economics 101.
Since oil's monster Friday rally, the rumor mill's churned out more gossip—including whispers about Russia and Saudi Arabia secretly meeting sometime this week to work out a deal. And in the wee hours of this morning, Saudi Arabia and Russia agreed to freeze output.
You know their economies are getting kicked in the rear if these guys are getting along…
"While the deal is preliminary and doesn't include Iran, it's the first significant cooperation between OPEC and non-OPEC producers in 15 years and Saudi Arabia said it's open to further action," Bloomberg reports.
So where will oil go from here?
Even after the announcement of the Saudi Arabia – Russia agreement, oil is more than $1 off its Monday highs. That just goes to show you that when it comes to market-moving events, the tail usually wags the dog…
The important thing is to understand how price action set off all of the speculation. Now that oil's reversed its plunge and is finally showing signs of life, every market pundit in the universe wants to assign significance to every piece of news even remotely connected to energy.
But back in reality, we know the simplest explanation is probably the right one. And one glance at a chart shows us that oil's decline was already losing momentum as it pushed to its February lows.
Check it out: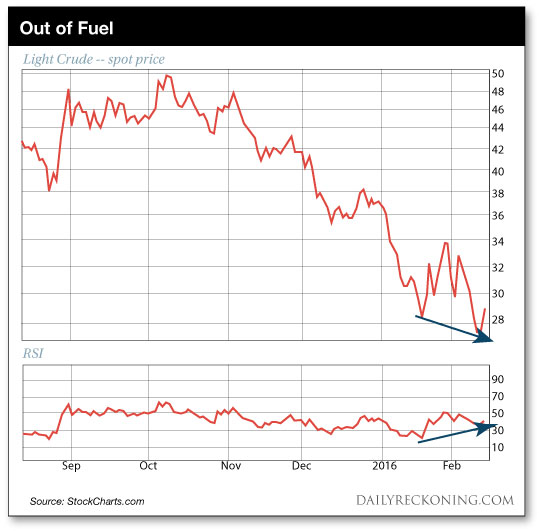 What we have here is a divergence between price and momentum. The bottom part of the chart shows the Relative Strength Index (RSI), a simple momentum indicator. Notice how the indicator plunges deep into oversold territory in January when oil makes new lows, yet failed to dive again with the price in February. That shows us that selling pressure is losing momentum, setting the stage for a quick, powerful bounce.
Now that you see how these oversold bounces are born, you need to know that moves like these are trading opportunities—not long-term investment signals. In the case of oil we've seen a strong initial bounce. But in order for this move to become something more than an oversold rally, we would need to see price repair more damage and break through some of that pesky resistance to get a bigger move.
Remember, oil's primary trend is down. Grab these oversold bounces for trades if you're quick enough. But don't bet the farm on a long-term recovery just yet…
Sincerely,
Greg Guenthner
for The Daily Reckoning
P.S. Learn how to profit in the midst of market panic–sign up for my Rude Awakening e-letter, for FREE, right here. Stop missing out. Click here now to sign up for FREE.