How to Play the Coming China Collision
China has a problem.
Wait, maybe that's a little too generous. Let's try that again…
China has a lot of problems. Pollution, dubious data, and government debt lead the list. Oh yeah, and there's also the issue of that pesky property bubble.
"China's middle-class consumers have huge chunks of their personal wealth wrapped up in the housing market," reads a report from Quartz. "So, a disastrous bust would severely impact consumer confidence and undermine China's effort to rebalance its economy toward domestic demand."
No matter where you turn today, you'll find someone who expects the Chinese economy to grind to a halt. Economists cut growth forecasts. Then, they slashed them again. In fact, the ruling party has even admitted that slower growth is the new normal.
"A combination of a huge oversupply of housing and a shortage of developer financing is producing a housing market downturn that could drive China's GDP to less than 6% this year," reports the Wall Street Journal. "Falling investment leads to falling levels of construction and sales. And given the property market's huge role in the Chinese economy, declining growth in the property sector means declining growth in GDP."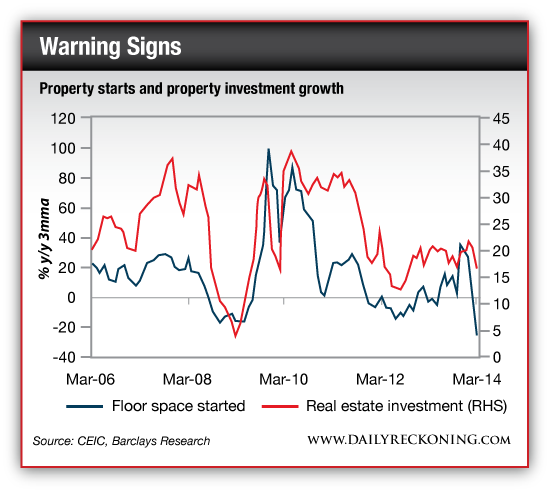 The downturn in the property sector looks pretty ominous at this point.
But here's the trillion-dollar question: How will the unwinding housing market affect Chinese stocks?
The truth of the matter is the Shanghai Composite has trended lower for a long, long time.
Yes, the Shanghai rose more than 2% yesterday. But it's down nearly 5% over the past six months. Over the past year, it has dropped nearly 9%. In fact, Chinese stocks are down more than 21% since the financial crisis ended in 2009. Aside from a brief pop in early 2009, the Shanghai has been unable to find its mojo for the past five years…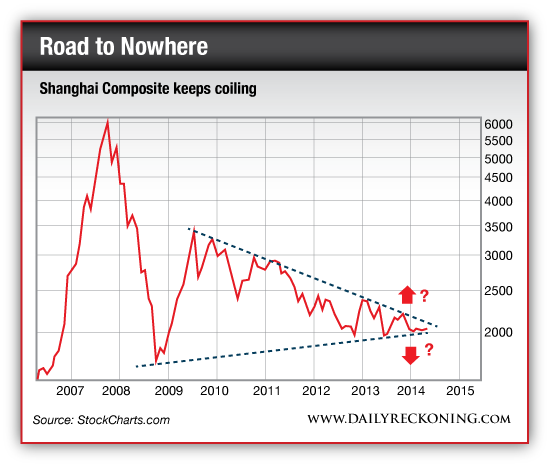 Chinese stocks have steadily fallen for the past five years. The Shanghai is coiled like a spring. Something has to give…
Regards,
Greg Guenthner
for The Daily Reckoning
P.S. Whether this breaks higher or lower is irrelevant at this point. Either an upside or downside breakout will most likely produce a dramatic move. Traders willing to play either side of this move stand to make a killing. To learn about specific investments you can make to take advantage of markets just like this, sign up for my FREE Rude Awakening email edition, right here.