How to Make Money from Stupid Cat Videos
Sick of those stupid cat videos your wife's always looking at?
Wanna deck your idiot coworker because he's always whipping out his smartphone to show you videos of his ugly grandkid you can't stand?
Get used to it buddy. Everything's going video these days. And you have two options…
You can ignore it. Or you can take advantage of this unstoppable trend by potentially making a boatload of cash from it…
Listen, 78% of all internet traffic is video as of this year. Yeah, that's right – 78%…
And video's set to dominate mobile platforms too. Your new phone lets you do a lot more than check email next time you skip work to play golf.
As the business publication Quartz reports, "Cisco projects video to represent 71% of all mobile data traffic by 2019, up from about 55% last year, and representing the bulk of mobile traffic growth."
That's crazy growth. And guess who's leading the way? Social media. There's a hot new app called Meerkat that allows users to instantly stream live video to their Twitter followers. It's wild. And it's igniting a race between the bigger names in the social media business to capture market share.
Look at Twitter. It just bought a startup called Periscope that also allows users to stream live video to all of their friends instantaneously.
"Given Twitter's ability to complement breaking news events like the Ferguson, Mo., protests, you could envision a situation in which live streaming video alongside other breaking news tweets might be helpful," tech news site Re/code explains.
And the charts are already tipping off savvy traders that something big is brewing. Social media stocks as a group are stomping the averages so far this year…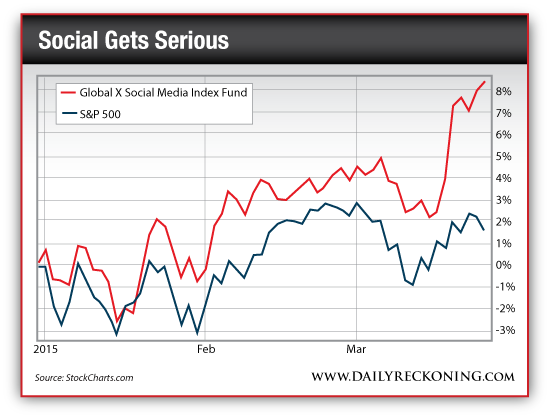 The Global X Social Media Index Fund has sprinted more than 8% higher since Jan. 1. The S&P 500 rose just 1.6%. And then there's our old pal Twitter. Twitter (NASDAQ:TWTR) has been an open trade for PRO readers since Feb. 12. And it hasn't let us down. After Tuesday's stunning performance TWTR is up more than 43% year-to-date.
This stock will probably need to take a break at some point after such a spectacular run. We'll keep an eye on it. But I think social media names still have all kinds of room to run. And with the mobile video story just starting to heat up, I expect fantastic runs in these stocks heading into the second quarter and beyond.
Regards,
Greg Guenthner
for The Daily Reckoning
P.S. Social media stocks as a group are stomping the averages so far this year. If you want to cash in on the biggest profits this market has to offer, sign up for my Rude Awakening e-letter, for FREE, right here. Stop missing out. Click here now to sign up for FREE.