How the Stock Market Got its Bite Back
The market posted another modest gain Wednesday.
It's springtime for stocks after a winter filled with turmoil. The major averages are back from the brink and approaching their old highs.
Today you'll see how stocks have recovered—and where they could go from here.
To understand where we are now you have to go back to last year. 2015 was the year of "bad breadth." Just a handful of powerful stocks were propping up the major averages. That's how the ridiculous FANG meme – Facebook, Amazon, Netflix, Google—came to be. Many investors thought these were the only stocks worth owning.
But everything changed when the calendar rolled over to 2016. Nothing worked anymore. Traders tossed the FANGs into the trash. The major averages took a quick trip to the dentist. Every single rotten tooth was pulled.
That's how we were stuck with the worst start to a calendar year in S&P history. Not six weeks into the year and the major averages found themselves gumming applesauce at the old folks home while pushing new lows.
Fast-forward to today and everything's different. It's the final trading day of the first quarter—and stocks are moving higher. In fact, those damn FANGs are actually sneaking back toward their highs.
The market got its bite back. What the hell happened?
Let's break it down:
1. Investors are way too bearish.
The stock market loves to punish the majority opinion when it becomes just a bit too widespread. That's what we're seeing right now when it comes to big money bets against stocks.
"Despite the fact that the market has been in a strong rally and short interest levels have seen a modest decline, the list of the most heavily shorted stocks has actually grown," according to Bespoke Investment Group. "As of mid-March, 49 stocks now have more than a quarter of their free-floating shares sold short."
While short sellers have gotten bolder, their positions are getting destroyed as the market marches higher.
We're seeing some of these heavily shorted stocks snap back to life. Even select biotech stocks—arguably the worst sector on the market right now—are jumping double-digits. If shorts have to continue to cover, it will add even more buying power to the rally…
2. The market's "broken stepchildren" are waking up.
Sure, the major averages have recovered after double-digit corrections. But what about those poor souls that were actually mired in bear markets?
I'm talking about the small-cap Russell 2000 and the Dow Jones Transportation Average. These two bears have packed a bite for more than eight months now (both have endured true bear markets—20% corrections from their highs). But ever since the February lows, these forgotten averages are outpacing the S&P 500: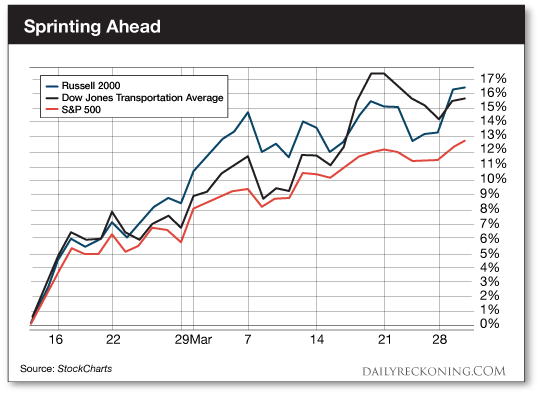 I'm especially interested in the Russell. If it can continue to push higher, that's a good sign that investors are open to taking more risk.
3. Everyone already left!
Fear of missing out is one of the most powerful emotions that can push markets dramatically higher. When folks are underinvested and a rally emerges, everyone's afraid they're missing the party.
"Investors are pulling money out of stocks at a virtually unprecedented rate," Bloomberg reports. "Individuals have taken a net $130 billion from mutual and exchange-traded equity funds in the past year. Bank of America Corp. said its trading clients have been net sellers of stocks for eight straight weeks, the longest stretch in five years."
Check it out: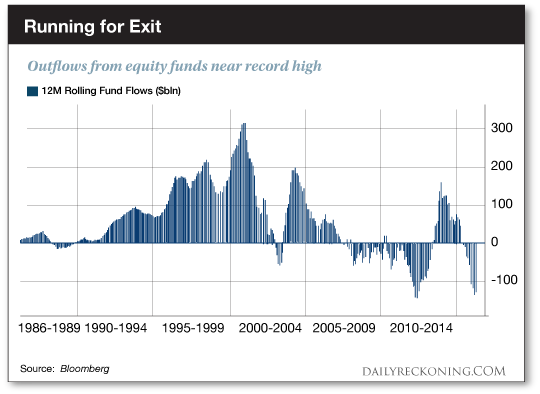 Does this mean we're guaranteed a run at new highs before you can say slowing global growth? Of course not. But what we are seeing right now are emotional investors pouring gasoline on an already flaming rally.
Remember, most investors have been on the sidelines since February. They've watched the market streak higher without them. Even though this rally might be getting overextended, we could see panic buyers continue to push stocks higher in the near future.
Sincerely,
Greg Guenthner
for The Daily Reckoning
P.S. Make money in ANY market–sign up for my Rude Awakening e-letter, for FREE, right here. Stop missing out. Click here now to sign up for FREE.