How Robots are Taking Over Your Retirement
The robots are coming.
No, a flying police-bot isn't hovering outside your front door right now. And your drone-delivered Amazon order isn't stuck up a tree in your backyard…
I'm talking about robo-advisors. That's right. If you believe the hype, a new generation of investors is entrusting its money to automated software.
"Automated services that code prevailing investment wisdom into low-cost portfolios have hit the mainstream," Yahoo! Finance reports. "But all these so-called robo-advisors promise proven asset-allocation discipline and tax-minimizing strategies typically associated with human advisors. Together, they and similar services manage some $3 billion in assets, from zero a few years ago."
Of course, that $3 billion doesn't come close to touching the big boys in the business just yet. But the growth is raising eyebrows—especially since the tech-heavy approach is supposedly attracting a younger set of investors to the markets.
"The firms' core pitch is perfectly in tune with the current youth ethos of 'hacking' one's life," continues the Yahoo! report, "finding clever technology-based tools to take care of important and potentially vexing tasks — in this case, saving for a house or retirement."
Sure, this sounds good in theory. But what happens when the market tanks? I don't care if your financial advisor is robot or human—if the market begins to trend lower, your panic will be the same. You'll want answers. No matter who (or what) is shuffling your money around, the core investing emotions remain the same…
SEI Research Insights also has some good data regarding younger folks' attitudes toward actually paying for investment advice. As it turns out, Gen X'ers with money to burn in the markets are just as willing to fork over cash for a decent advisor as their older counterparts…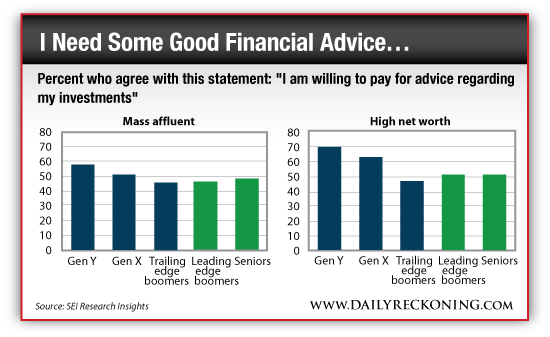 These numbers aren't probably won't prompt an emergency meeting at Charles Schwab. It looks like their customer base isn't going anywhere…
The robo-advisor story is overdone. I doubt all of the major players — Betterment, Wealthfront, Personal Capital, LearnVest, SigFig — will all survive a major bear market if one materializes over the next few years.
Regards,
Greg Guenthner
for The Daily Reckoning
Ed. Note: If these robo-names pop up as hot potential investments over the next couple of years, think twice before buying into the hype. Sign up for the Rude Awakening for FREE today to see how you can trade the trends for big gains…