How a Government Screw-up Can Hand You Double-digit Gains
Hackers are back. And this time, they've upped the ante.
According to a government union, they've actually managed to steal social security numbers and data for every single federal employee, the AP reports.
Got that? Every single federal employee!
Here's Bloomberg with the dirt:
"The union, which slammed the security breach as 'an abysmal failure on the part of the agency to guard data' said the hackers also had personnel information for up to a million former federal employees."
I can't tell you what's more shocking—that the government *gasp* was responsible for such a colossal screw-up… or that some investors haven't figured out that cybersecurity is quickly becoming one of the most profitable trades we'll see this decade. And today, we're looking at a short-term trade that could land us double-digit gains in just a few weeks if things play out like I expect…
"The amount of sensitive data stored online has increased exponentially in recent years, and so has the number of attempts to steal that information," Business Insider reports. "While this is a huge problem to both the government and private companies, for some it is an opportunity."
It sure is…
Listen, your data isn't just limited to your hard drive. It's floating around everywhere—through distant servers and "the cloud". So it's not a question of if your data is stolen… but when. And private corporations and the government are quickly realizing that current security measures simply aren't cutting the mustard.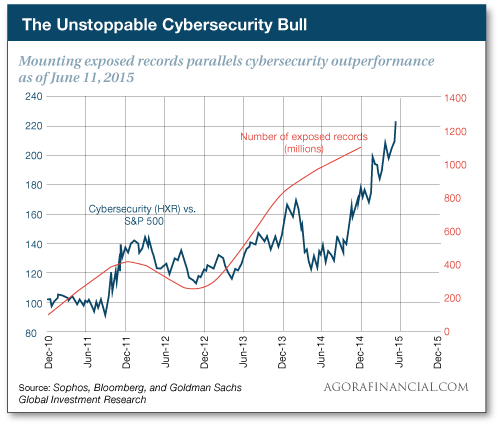 For the past couple of years, I've been screaming that major cyber security breaches are coming. And that it wasn't a matter of if, but when. Guess what? It's happening. And these breaches are really starting to pile up. In fact, Goldman Sachs counts 17 high-profile cybersecurity breaches over the past 12 months alone.
So is it any surprise that cybersecurity stocks are crushing the major averages this year?
The PureFunds ISE Cyber Security ETF is up nearly 28% year-to-date. Compare that to the paltry 1% return from our old friend the S&P 500. That's some serious outperformance. And I don't see it letting up anytime soon.
If you haven't hopped on the cybersecurity train yet, this could be your last chance. It's getting ready to bust out of the station. And when it gets going I don't think anything's slowing it down. You could be looking at one of the most lucrative trades of this decade—and beyond.
It's time to make cyber crime pay you for a change.
Regards,
Greg Guenthner
for The Daily Reckoning
P.S. Let crime pay you. If you want to cash in on the biggest profits this market has to offer, sign up for my Rude Awakening e-letter, for FREE, right here. Stop missing out. Click here now to sign up for FREE