Your Hidden Path to Profits During the Melt-Up's Final Push
It's time for the final push.
With only a handful of trading weeks remaining in 2017, little stands in the way of higher prices.
This year's stock market melt-up has produced a long list of incredible winners. The FAANGs, semiconductors, and other big tech stocks have helped fuel the rally. We've also had multiple chances to profit from the big biotech comeback and the rebirth of homebuilder stocks — two more powerful market stories that have led to impressive gains this year.
Many of these stocks will continue to sneak higher during the holiday season. Once again, this rally rewards patient traders and investors who aren't afraid to ride the market's most powerful trends.
But there's one group of stocks flying under the radar as melt-up season accelerates…
Unfortunately, many investors have a bad habit of ignoring some of the market's strongest plays simply because they don't know much about the companies responsible for the gains. They're caught up in the big narratives the media pipes into our skulls every day.
Over the next few weeks, we'll hear all about how much money Amazon is raking in during the holiday shopping season. We'll see detailed breakdowns of the new Netflix subscription pricing structure and how it could affect its business heading into 2018. We might even learn how Facebook's targeted ads pulled in record sales this year.
After all, these are the popular stocks that everyone knows. Most investors think these are the best performing stocks on the market this year.
But most folks are dead wrong.
There's one group of stocks that's stomping all over the gains of these household names in 2017. If you want to outperform Facebook and Netflix, there's only one place to turn…
The biggest momentum stocks of 2017 are all coming from one place: China.
China's tech ADRs are once again ripping higher at a furious pace. Pick almost any American tech company and you'll find a similar Chinese name delivering bigger returns.
While U.S. investors watch Amazon rack up year-to-date gains of more than 50%, the "Amazon of China" Alibaba (NYSE:BABA) is up almost 115%.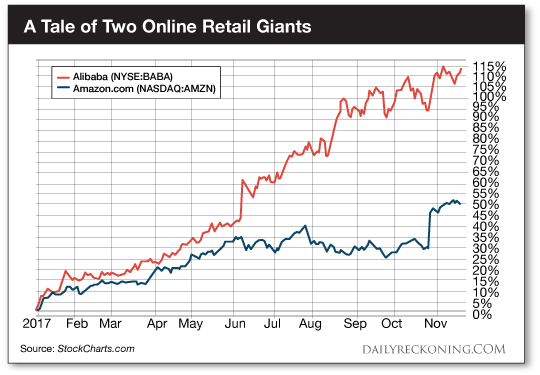 Don't get me wrong, Amazon is crushing it this year! But even with its impressive gains, it can't measure up to the powerful rallies posted by some of these Chinese high-flyers.
We've traded in and out of these speculative Chinese stocks multiple times in 2017. Earlier this year, we noted how our trading portfolio looked like a Chinese embassy. If you've followed along, you already know that we booked ridiculously fast gains on Momo Inc. (NASDAQ:MOMO). We were able to harness a 50% gain in just a few weeks with this quick trade. And MOMO isn't the only Chinese name lighting up the market this year.
Alibaba (NYSE:BABA) is another solid winner from our trading portfolio. We cashed in our chips on this trade in early May for a gain of 23%. As you can see from today's chart, the stock continues to prove all the naysayers wrong as it pushes to new all-time highs. In fact, Alibaba stock has posted gains every single month of the 2017 so far. One more to go for a perfect trading record!
Then there's 58.com Inc. (NASDAQ:WUBA), the Craigslist of China. This stock exceeded our wildest expectations when we jumped into a trade in late June. After beating earnings expectations, shares rallied double-digits and didn't look back. We were able to unload the trade for gains north of 50%.
Remember, these stocks aren't on most investor's radar right now. Look for them to quietly sprint higher during the holiday season…
Sincerely,
Greg Guenthner
for The Daily Reckoning