Here's What's Behind All of Your Stock Market Frustrations...
Forget Greece. Forget China.
They're distractions that don't tell you why the stock market has done squat this year. The real story's hidden behind the headlines.
And today I'm pulling back the curtain, my friend. You'll see what's really happening behind the scenes at the Dow, and why the surface numbers are so misleading.
You'll also see how one stock can add a fast double-digit winner to your portfolio this summer…
And amazingly, I can explain it all in just one chart.
Take a look: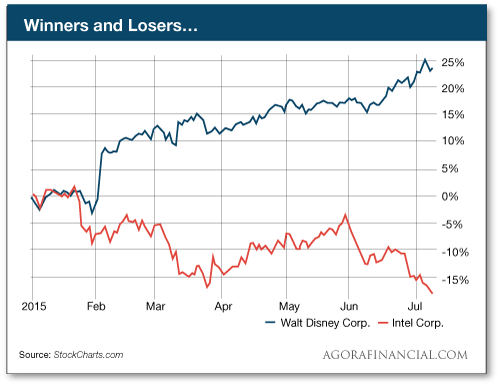 OK, here's what you might be thinking right now:
Walt Disney shares are flying through the roof and Intel stock sucks. What's the big deal?
Yeah, so here's the big deal: These two stocks—and their completely opposite performances—perfectly illustrate what's going on with the market this year, especially the Dow…
The Dow's comprised of thirty components. Disney's the best performer. Intel's the worst. In between are five components up at least 10% in 2015, and five are down double-digits. Exactly half of the Dow (15 stocks) is positive on the year, while the other half of 'em are down.
So if you bought the Dow this year— supposedly the 30 biggest movers and shakers on the Street— you'd be sitting on a 1% loss. At this rate you can retire in about…never.
Here's where I'm going with this…
You can't think of "the Dow" as a whole. You must focus on its individual components instead. You've got stocks like Disney that are up big. Then you've got your Intels that are nailed to the floor. So the big board's major winners are getting canceled out by the losers. But you can't see that just looking at the big picture or listening to news about "the Dow."
That's what's so damn frustrating for average investors. I mean, you buy an index fund and sit on your hands as the thing goes nowhere. You hear all this talk about record highs every other day…but you're just not seeing it.
You'd better be lucky in love, pal— because you're sure as hell not getting lucky in today's overall market. Seriously.
So instead of shackling yourself to loveless investments, you need an actionable trading plan that'll cut the losers out of your life. That's why you need to buy strength, a theme I've been pounding you with recently.
Regards,
Greg Guenthner

for The Daily Reckoning
P.S. It's time to lift off. If you want to cash in on the biggest profits this market has to offer, sign up for my Rude Awakening e-letter, for FREE, right here. Stop missing out. Click here now to sign up for FREE.