Here's the Signal an Old-School Market Timing Secret is Flashing Right Now...
Forget about all of your fancy pants, high-tech trading tools. Sometimes, you just need to go old school to get an accurate picture of the markets…
So today I'm showing you a simple, old-fashioned market timing trick that can tell you when it's safe to buy stocks– and when you should probably head to the sidelines for a bit. And even though this trick predates computers, online brokerages, and shady algo trading programs, it still works pretty darn well.
It's called "Dow Theory"—and it's outrageously straightforward if you can follow some simple rules. Dow Theory uses two indexes to measure the market's primary trend: The Dow Jones Industrial Average and the Dow Jones Transportation Average.
Now, Dow Theory doesn't tell us what individual stocks are going to beat the market or anything like that. In fact, it only spits out one of two "big picture" signals: buy or sell. It essentially tells you when it's safe to buy stocks (when the market's locked in an uptrend) and when you should think about selling (when there's a distinct change of trend to the downside).
Here's how it works:
Dow Theory says U.S. markets are in an uptrend if either the Dow Jones Industrial Average or the transportation average breaks out to a new high – and the move is confirmed by the other average. If both the DJIA and the transports are moving higher, the market's strong.
The idea behind the theory is that the economy is in decent shape if goods are being made (represented by the industrials) and shipped (represented by the transports). Like I said, it's a simplistic system.
If both averages are down, though, it's probably a pretty bad sign for the market. And what if Industrials move higher while transports are stuck sideways? No biggie. That's still a "buy" as far as Dow Theory is concerned. But what if one average is up while the other is down? Still a buy signal, as far as Dow Theory is concerned. Remember, we would need to see both averages start to breakdown before the switch flips to "sell".
So what can it tell us about the stock market right now?
For that we turn to the charts. Check out a current look at the Dow Industrials and the Dow Transports: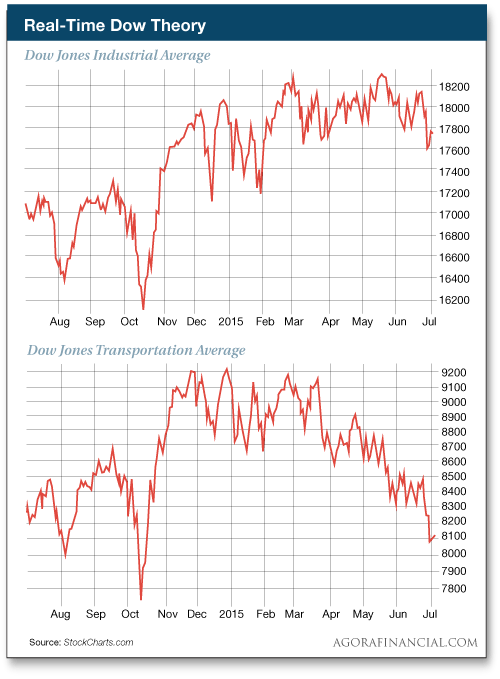 Notice anything interesting?
Well, for starters, the Transports are looking ugly this year. After peaking in December, the trannies are down about 11%.
But the Industrials? They're holding up just fine… for now.
With the industrials still in positive territory, we're still in "buy" mode. And let's be honest, that's not a terrible place to be. But we'll have to watch the DJIA closely over the next few weeks…
Here's Oppenheimer's Ari Wald on what it'll take to trigger a big sell signal:
"The current signal has been on a buy signal since December 2011 and was last reaffirmed in December 2014," he says. "A bearish reversal would require 1) a lower high by at least one of the indexes and 2) then a breakdown by both."
In other words, we need to see the industrials close below their January lows before it's time to start leaning hard on the bearish side of things. And we're just not there yet.
Dow Theory is a straightforward measure of market strength. And obviously it'll be late triggering changes in trends. After all, this is a low-tech timing tool. But it's important to take a step back from the day-to-day volatility of individual stocks to see how these indexes are reacting to longer-term buying and selling pressures.
We get too wrapped up in high-tech. Sometimes, it's best to go old-school…
Regards,
Greg Guenthner

for The Daily Reckoning
P.S. Go old school. If you want to cash in on the biggest profits this market has to offer, sign up for my Rude Awakening e-letter, for FREE, right here. Stop missing out. Click here now to sign up for FREE.