Here's the Newest Profitable Market Trend -- and It's Not What You Think
You're about to witness a potentially big-time market rotation that could mint you some serious coin this year. How does that sound?
But I've gotta warn you: today's trade might surprise you. And believe it or not, it all starts with the demise of the utilities sector…
Utilities were the hot trade during the second half of 2014—and for about 5 minutes this year. And yes, we rode the utility trend for some nice gains last year.
But it became apparent in early February that big money was bolting the utilities trade. "I don't like how utility shares moved sharply lower Friday on strong jobs numbers and rising rates," I told PRO readers on February 9th. "That's a change of character that could snowball into a bigger move."
So we grabbed our parachutes – and not a moment too soon. The sector is now down double-digits from its January highs. That's the snowball we were talking about. Take a look: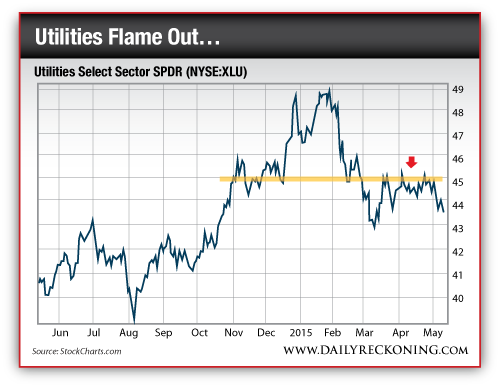 Here's where it gets interesting:
Utilities thrive on low interest rates. And low rates along with investor demand for yield helped drive utilities higher last year. But now there's plenty of talk about rising rates jolting the market this year. But guess which sector thrives off higher rates? Banking and financial institutions.
Banks typically suffer from low interest rates because they can't make money when they're getting virtually no interest on the loans they make. That's why they can outperform in a higher interest rate environment. And while I don't know for sure if higher interest rates are on the way, the charts are telling us that something's brewing with banks and financials. Just check out the financial stocks: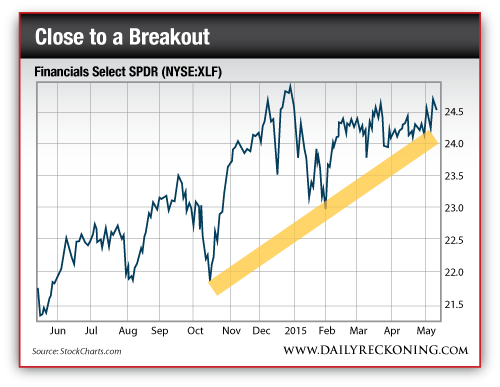 I know you probably still hate banks and the major financial names but the move is clear: ditch utilities and load up on financials.
Regards,
Greg Guenthner
for The Daily Reckoning
P.S. This could be the start of a major new trend. If you want to cash in on the biggest profits this market has to offer, sign up for my Rude Awakening e-letter, for FREE, right here. Stop missing out. Click here now to sign up for FREE.