Here's the Only Stock Immune from the Amazon Curse...
Out of all the disruptors on the market today, no company is crushing its competition more thoroughly than Amazon.com (NASDAQ:AMZN).
Amazon just announced an ad supported video service that will allow users to upload their own videos. In plain English, this means Amazon is going after YouTube (and the Google crew at Alphabet by extension) with a virtually identical product.
"The new service broadens Amazon's effort to transform itself from a dominant retailer to a multimedia powerhouse," the Wall Street Journal declares, "which now offers big-screen movies and TV series from the likes of Woody Allen."
So will this YouTube clone successfully beef up Amazon's Prime video offerings? Or will it crash and burn like Amazon's ill-conceived Fire phone?
It doesn't matter. In fact, you're asking the wrong questions, knucklehead…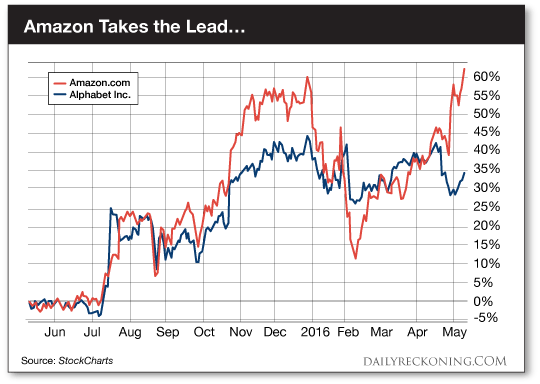 Even for a giant company, Amazon continues to remain nimble and innovate. But while everyone's trying to figure out the next industry Amazon will crush, you should ask yourself a different question…
What companies are safe from the Amazon Curse?
Today I've found you a winner in the retail space that's actually thriving during the age of Amazon—and it's poised to bag you some fat, double-digit gains.
Here's a hint: It's not a store you'll find at your local mall. In fact, these traditional retailers can't even get their online sales anywhere close to Amazon's. Late last year, Bloomberg reported that efforts by big-box retailers to attract online sales wasn't even generating new revenue. It simply cannibalized their own in-store sales.
It gets worse. The Wall Street Journal reports that department stores have posted a 34% earnings drop this earnings season, with apparel logging growth of just 1%.
Does this morbid picture mean lights out for every storefront, big box, and boutique? I doubt it. Niche retailers and smaller shops might be able to compete with Amazon in the long-run. But that doesn't change the fact that these stocks are poison right now. Avoid 'em like the plague unless you take pleasure from burning cash.
There's just nowhere to run from the Amazon juggernaut.
Or is there?
Yes, believe it or not, there's one retailer that's managed to kick the Amazon Curse. And it's posting new highs as I type. I'm talking about Home Depot (NYSE:HD).
Home Depot is one of our longtime favorites 'round these parts. Why? First of all, it's been a market leader for years. And it doesn't hurt that the world's No. 1 home improvement retailer continues to see strong demand in the age of online shopping.
So how does Home Depot stay on top—even with Amazon swallowing up every other retailer in the country?
It's because Home Depot sells stuff that people don't buy online. Plants, mulch, and gardening equipment. Appliances. Lumber. Drywall. Circular saws. Grills. Kitchen sinks. This doesn't look like your typical Amazon cart at checkout, does it?
This is stuff you load into the back of a pickup. You don't order it online.
Home Depot jumped nearly 1% yesterday to new all-time highs.
The Amazon Curse hasn't touched these profits yet…
Sincerely,
Greg Guenthner
for The Daily Reckoning
P.S. Profit in any market–sign up for my Rude Awakening e-letter, for FREE, right here. Stop missing out on the next big trend. Click here now to sign up for FREE.