Here's How Oil Topped the Trump Rally
You can't avoid it…
Everything's coming up oil.
Crude is darting higher once again this morning after briefly posting new 18-month highs on Monday. Oil's spike came on the heels of news that Russian-led OPEC rivals agreed to significantly reduce output. That's the biggest non-OPEC cut ever, according to Reuters.
Speaking of Russia, Trump just selected Exxon Mobil CEO Rex Tillerson to be his secretary of state, "dismissing bipartisan concerns the globe-trotting leader of an energy giant has a too-cozy relationship with Vladimir V. Putin, the president of Russia," the New York Times moans.
Meanwhile, the price of a barrel of oil continues to creep higher. So do gasoline prices. After trending lower for the better part of the past two years, gas prices are showing signs of life. Now analysts are bracing for the price of a gallon of gas to march toward $3 in some places by early next year (the national average is hovering just above $2.20 this week, up almost 20 cents from late 2015).
On top of all of this crude-related news, the markets are now preparing for the globe's oil surplus to begin taking some hits. The International Energy Agency expects the oil market to swing to a deficit at some point during the first half of next year, Bloomberg reports, with oil stockpiles declining by approximately 600,000 barrels a day over the next six months.
All of these shenanigans have led to sharply higher oil prices over the past month. While the financial media's eyes have stayed glued to stocks since the election, crude has easily bested the major averages.
Move over stocks—crude is back. And it's taking no prisoners.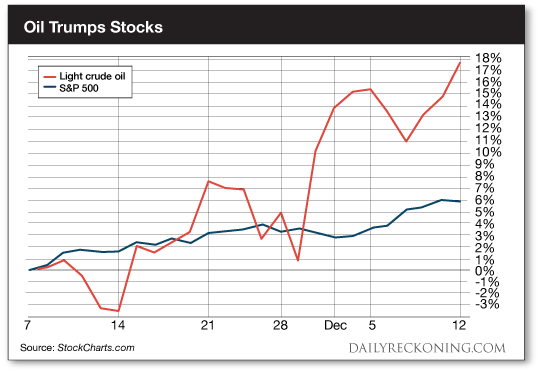 Of course, we're going to need to see the cartel follow through on its promises to cut production for crude's big move higher to stick. And so far, the market does actually look like it's beginning to firm up…
"There are some signs the market is already starting to tighten," Bloomberg notes. "While inventories of crude and refined oil in industrialized nations remain 300 million barrels above their five-year average, they dropped for a third month in October, the longest run of declines since 2011."
We've closely monitored developments in the crude market since well before OPEC's eleventh-hour deal to cut production late last month. After all, the outcome of the recent decision to cut was considered by many folks to be make-or-break for the oil producing nations. Some analysts were even predicting oil to drop to $30 a barrel if a deal fell through.
It's now clear that a little stability was all crude needed to begin building a new base. Earlier this year, we told you how oil has been consistently victimized by whipsaw market action. In June, oil prices quickly jumped above $50 a barrel for the first time in nearly a year. U.S. stockpiles were down and China demand came in stronger than anticipated. Both of these factors helped push oil over the hump. Crude even managed to top $51.
But these gains were short lived. As it turns out, the oil bears were just taking a quick nap. After topping out, oil prices fell for six straight days. It was the longest bearish run for oil since early 2016 when prices plummeted below $30 a barrel. All the oil bulls were taken to the slaughterhouse…
In light of recent events, the chances at a sustained oil rally have increased substantially. The charts look a lot healthier. Heck, resurgent oil prices have helped keep the post-election rally on its feet as manic traders rotated out of tech and health care names into basic materials.
We'll continue to keep a close eye on how oil names react to rapidly changing market conditions. Energy a solid trade that could deliver hefty gains in the coming weeks…
Sincerely,
Greg Guenthner
for The Daily Reckoning