Harnessing Gains from a Supermetal
Commodities were crushed in 2013 — and it wasn't just precious metals that took a beating. In fact, most commodities from metals to corn to coffee were unceremoniously dumped by investors.
But there's one commodity that is showing signs of a major turnaround—and it's ready to bring another little-known metal along for the ride. More about this opportunity in just a sec…
This big shift away from commodities didn't simply happen overnight, of course. Many commodities were beginning to trend lower as early as 2011. The Dow Jones-UBS Commodity Index has been locked in a downtrend for three years now. Since January 2011, the index has dropped nearly 24%…
But all is not lost in the commodity space. Some commodities are even beginning to show signs of life.
Take steel, for instance. Industry bellwether US Steel Group (NYSE:X) rocketed higher seven months ago after years of subpar performance. The company has posted gains of nearly 70% since the stock dipped just below its 2009 bottom back in June 2013. This could be the beginning of an extended comeback in a sector that investors have shunned since the financial crisis…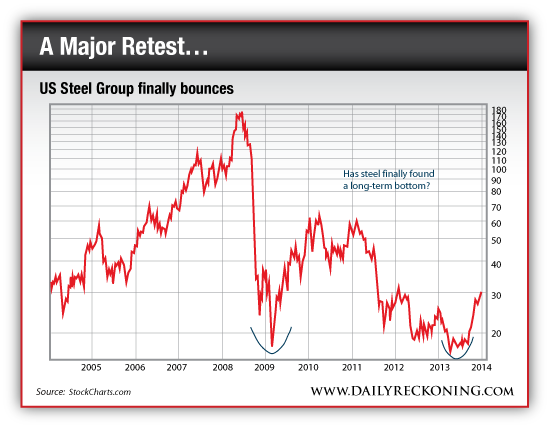 Readers of my Rude Awakening PRO letter already had an opportunity to ride the steel trade higher late last year. Today, I have new opportunity to get onboard a steel sympathy play that could deliver similar (if not better) returns.
This opportunity is related to graphene — a substance that occurs naturally in graphite. Graphene is known as one of the strongest materials in the world. And graphene has the potential produce some exciting technological advancements…
Graphene is thin, strong and electrically conductive. You can etch it. You can stack it and build whatever transistor you want to design. It's especially attractive technology in the steel industry, where some firms are working to produce graphene-strengthened supermetals.
"It is not only the thinnest material in the world," says The New York Times, "but also the strongest: a sheet of it stretched over a coffee cup could support the weight of a truck bearing down on a pencil point."
Our own resource maven Byron King was on this trend long before the Wall Street junkies caught on.
"Even early in the game this 'super substance' represents an amazing opportunity for resource investors, considering the fantastic technical applications," explains Byron.
Keep a close eye on the graphene industry. If steel continues to outperform, graphene-related plays should regain their footing and present some juicy trading opportunities if you know where to look…
Regards,
Greg Guenthner
for The Daily Reckoning
Ed. Note: In today's Rude Awakening email edition, Greg gave his readers a unique chance to discover a graphene-related play that has tremendous profit potential. If you didn't get it, sadly you missed out. To make sure you never miss another great opportunity like this one, sign up for the FREE Rude Awakening email edition, right here.