It's Gray... It's Shiny... and the Chart's Screaming Buy!
Prices have detached from fundamentals!
That's what they're saying right now about base metals like aluminum. After a short cooling off period, base metal bonanza is once again heating up in the East. And analysts are worried the meteoric rise is setting the market up for a big fall during the second half of the year.
Maybe the pencil pushers are right. Perhaps aluminum and other metals will jet higher too fast and come crashing back to the ground later this year…
Fortunately for you, that scenario doesn't mater one iota. That's because you can ride the base metal momentum wave for even faster gains as the next round of breakouts materializes.
So what's all the fuss about?
Turns out Chinese speculators are at it again. The same folks who were burned by Chinese stocks are throwing their money into the commodities market.
"Aluminum is trading around a 10-month high on the Shanghai Futures Exchange after volume more than quadrupled in four days to about 1.04 million contracts on Monday, the most since December," Bloomberg reports. "That echoes the performance of steel reinforcement bar last week, when prices rose 20 percent in four days as trading ballooned."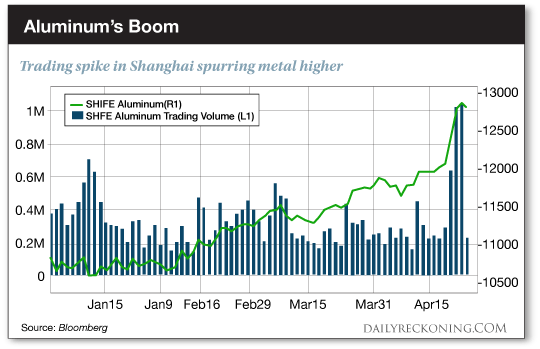 For several months we've noted that some of the best trading opportunities we've seen in some time are popping up in commodities. This rush back into aluminum gives you another shot at a lightning fast hit-and-run raid on the commodities market. And it should score us some fat gains while everyone else is wringing their hands over Apple's big earnings miss…
No one's paying attention to the commodity space despite bottom-bouncing breakouts in copper, steel and aluminum. That's because most folks aren't interested in a commodity market that's produced nothing but losses over the past several years
Aluminum producer Alcoa Inc. (NYSE:AA) has been a dog of a stock since late 2014. It's lost more than half its value in a little more than a year, dropping more than 30% during the first two weeks of January alone. That was enough to scare off even the most patient investors.
But a sharp comeback in February yielded spectacular results. AA is one of those stocks that can easily pop 10% in just a few hours (as it did earlier this year). And after yesterday's 5% jump, we could be in for another big move, making this the perfect short-term trade for a market locked in earnings season purgatory.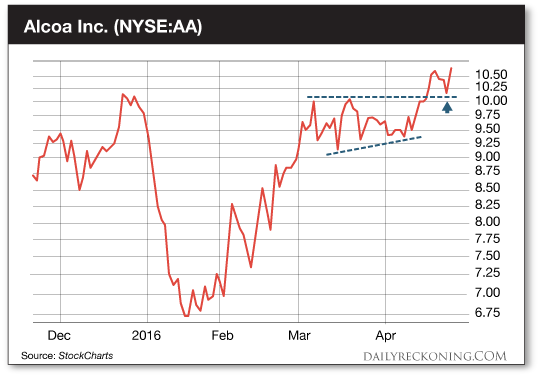 Yesterday's move above $10.60 marked new 2016 closing highs for Alcoa. More importantly, the stock has broken out of a tight range that had trapped shares for more than a month. With blue skies above, AA has a shot at finding the momentum that helped this stock shoot from $7 to $10 in a matter of weeks.
You've had a couple of opportunities to book gains on AA this year. Back in March, we were able to take double-digit profits on our most recent Alcoa trade. Now we have a chance to duplicate that trade with a very similar setup. Not bad for a week where most stocks are sagging on weak earnings.
The next leg of the base metals rally starts now. You won't want to miss it…
Sincerely,
Greg Guenthner
for The Daily Reckoning
P.S. Profit from the next breakout in metals–sign up for my Rude Awakening e-letter, for FREE, right here. Stop missing out. Click here now to sign up for FREE.