Good Riddance, Safety Trade!
They're over-baked, overbought and burned to a crisp…
That's right—it's time to bid good riddance to this year's overheated safety trades. If you own any of these so-called "safe" stocks, you need to jettison them from your portfolio while you still have the chance.
Let me explain…
Yesterday, we explained how the rally in speculative stocks is the spark this market needs to launch to higher prices.
The next dominoes to fall are the safety trades that were red-hot when the market was in turmoil earlier this year.
Investors have gobbled up anything and everything with a decent yield this year. They've bid up utilities and consumer staples stocks to prices not seen in decades. Like we said at the beginning of the month, you know investors have gone safety crazy when they start treating utilities like growth stocks.
Utilities alone rose more than 21% during the first half of 2016. That's the sector's best performance in over 25 years. Consumer staples names jumped nearly 10% over the same timeframe. That's crazy—especially when you consider that the major averages barely squeezed out a gain over that 6-month period.
Earlier this month, we told you that this trend would not continue much longer if the major averages broke out and posted new highs. Why? Because in more favorable market conditions, investors will only be willing to pay growth-stock prices for actual growth stocks.
As Bespoke Investment Group noted earlier this month, the utilities sector has a higher trailing 12-month price-to-earnings ratio than the technology sector. That means investors are paying a bigger premium for a power company's measly dividend than a tech giant like Apple.
If that's not madness, I don't know what is. And it looks as if investors are beginning to come to their senses.
Yesterday's bearish action in utilities and consumer staples might be the beginning of the end for this overheated safety trade.
After failing to build on last week's rally, the Utilities Select Sector SPDR (NYSE:XLU) dropped more than 1% on the day. The Consumer Staples Select Sector SPDR (NYSE:XLP) fared even worse. It dropped nearly 1.5% on the day. Both of these sectors are now well in the red for the month of July…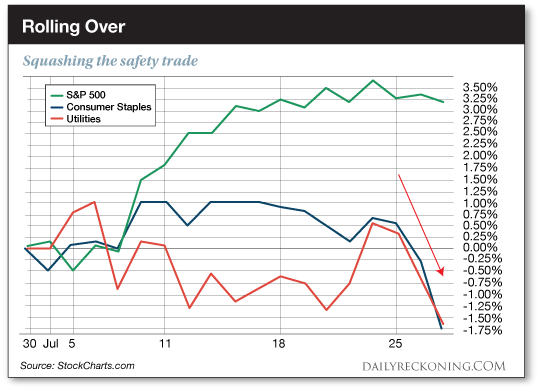 Big breakouts in small-caps and other riskier assets are beginning to stick. That's great for the market rally—and bad news for groups like utilities and consumer staples that have fed off investor fears during the first half of the year.
The utilities and consumer staples sectors won't repeat their historic first-half performance. Don't go chasing these stocks right now.
Sincerely,
Greg Guenthner
for The Daily Reckoning
P.S. Cash in on the most overbought sectors on the market — sign up for my Rude Awakening e-letter, for FREE, right here. Stop missing out on the next big trend. Click here now to sign up for FREE.