Gold Goes Mainstream
The world is falling in love with gold again.
After flirting with a breakout at $1,300 for more than four months, gold futures shot out of the blocks and posted new 2017 highs earlier this week.
Everyone's beginning to take notice. In fact, I'd guess that gold is attracting more attention this week than it has since it was powering toward $2,000 all the way back in August 2011.
Gold bulls are showing up everywhere. The breakout dominated the financial news Tuesday morning as futures extended their gains to $1,330. The metal is unstoppable, they said. Natural disasters and North Korean missile launches would push more investors into the fear trade and help gold make an "easy" run toward 2016 highs…
The herd's not always wrong. But I can't help but get a little skeptical when every trader on the planet crowds one side of the canoe, at least in the short-term.
Don't get me wrong – I love big, obvious breakouts as much as anyone. But with gold going mainstream this week, it's possible we see a little downside action before the next leg of the gold rally picks up steam.
That's exactly what's happening this morning. Gold had already faded from its morning highs yesterday as the hot money took profits. The popular trading vehicle SPDR Gold Shares (NYSE:GLD) even managed to finish the trading day in the red.
This morning is showing us more of the same. Gold futures are soft (they're down about $3 as I type) while an oversold U.S. dollar is starting to wake back up.
"Investors say the dollar is suffering from a broader concern among investors over the pace of U.S. growth and fractious domestic politics," The Wall Street Journal reports.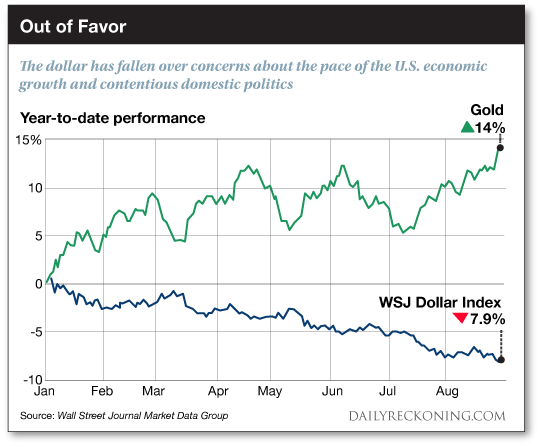 The greenback holds the key to this week's gold breakout.
The WSJ notes that the buck is down 12% against the euro and 6.2% against the yen this year. While the media has played up global unrest and other unexpected events, the dollar's drastic decline has arguably been one of the main drivers of gold's resurgence this year.
But the buck looks ready to hammer out a short-term bottom – a move that could kill gold's momentum, forcing traders to wait for a hard reset before we see an attempt at those elusive 2016 highs.
I think we'll have a great shot at putting on a profitable gold trade at some point over the next several weeks. But not right now. Let's wait for some of the speculators to get stopped out before diving into a new long position.
But if you've been paying attention this summer, you know we've already alerted you to much stronger trading signal for the Midas metal…
It was our in-house "quant" Jonas Elmerraji who spotted it thanks to the proprietary indicator he has spent the last five years coding.
The signal Jonas pinpointed back in June is highly reliable. It's made investors money almost 80% of the time over the last 12 years. His system has nailed the price action in gold this year. And that's not the result of some hypothetical back test, either.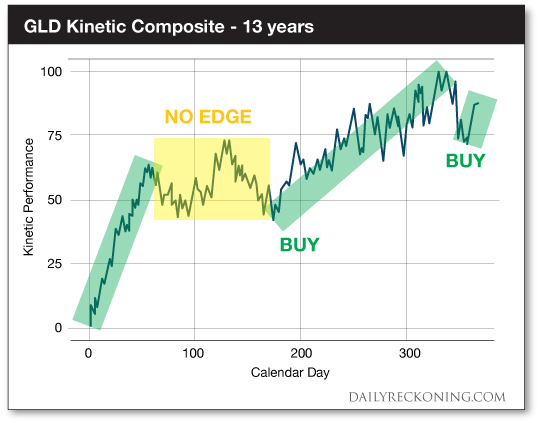 You can see how the Kinetic Composite signaled a rally at the start of the year, followed by a volatile sideways period, and then another rally kicking off this summer.
Buying this signal instead of this week's over-hyped breakout was the right move. In fact, if you had bought the GLD calls Jonas recommended back in June, you'd be sitting on open gains of almost 50% right now.
Check out these trading signals for yourself. You won't be disappointed…
Sincerely,
Greg Guenthner
for The Daily Reckoning