Getting High is the Only Way the Booze Business Will Survive
Recreational pot just passed another crucial milestone.
A major U.S. alcohol company is officially getting into the marijuana business. Constellation Brands Inc. (NYSE:STZ) is buying a stake in Canadian medical marijuana firm Canopy Growth Corp. (TSE:WEED) for $191 million.
Constellation is a major player in the alcohol distribution industry. Its brands include Corona beer, Black Box wines, and Svedka vodka. Now that it has Canopy Growth on its team, management says it will formulate a marijuana drink that it will begin selling in Canada as soon as the country legalizes recreational pot. The "drinkable marijuana" segment is worth about $8 billion today, MarketWatch reports, and is expected to growth to $23 billion in the next four years.
Constellation shares are already up more than 10% since July 1st, and news of the Canopy Growth stake has helped edge STZ to new all-time highs. Meanwhile, WEED gained more than 17% yesterday to launch its second-half gains to almost 90%.
It's not difficult to find the real growth industry here…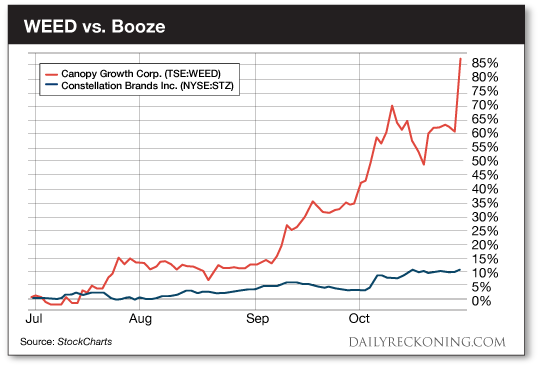 The great pot boom is picking up steam. A major alcohol distributor buying a marijuana company would have been unfathomable just a few years ago. But as the tidal wave of legalization starts to crest, we could look back at today as a crucial moment in the industry's short history.
Sure, legal pot is still a new concept to the markets. Most companies are figuring out how the heck to invest in a brand-new industry as legal weed starts to spread across the country.
But Constellation management was smart to get onboard the movement while it's still in its early stages. Because if the data we're seeing right now is any indication, legal weed might cause the alcohol industry some serious trouble down the road.
[Editor's note: My colleague Ray Blanco has been all over these tiny pot stocks for months. In fact, Ray's readers got the early drop on Canopy Growth and are already sitting on big gains. Click here to see how you can join them…]
We all know folks aren't guzzling Budweiser like they used to back in the day. The big beer companies are battling sliding sales by attempting to buy up trendy craft beer companies looking to cash out.
But there's a bigger problem: Young people aren't drinking as much beer as previous generations. Numerous studies show millennials prefer wine and liquor. And younger people aren't consuming as much alcohol, either. In fact, alcohol demand is slowing across the board, a phenomenon that has been linked to the fledgling pot sector blasting off.
The narratives surrounding the health side effects of booze and pot are quickly changing. Consumers are beginning to view alcohol as a more harmful substance than marijuana. As marijuana use becomes more socially acceptable, the harmful health effects of booze are coming into focus. Attitudes of consumers — especially health-conscious young people — are becoming a genuine threat to the alcohol industry.
We're probably still several years away from legal weed on the federal level here in the U.S. (Constellation management says it won't pursue any products stateside until weed is legal across the board). But rapidly shifting public sentiment is already propelling the industry forward.
Sincerely,
Greg Guenthner
for The Daily Reckoning