Fed Tapering May or May Not Happen in the Near or Distant Future
The financial media mind warp has kicked into high-gear this month. Epic distractions abound…
But the message we're receiving from the charts right now is clear. The broad market has tested support. For the most part, stocks have held up well.
"That's not to say that stocks are suddenly back in buying-frenzy mode. They're not. The S&P is still very close to its trendline," chimes in fellow trader Jonas Elmerraji. "But seeing buyers step in at support is a good sign — and we're starting to see some minor signs of strength again in the market this month."
"Not surprisingly, last week's market action was confusing to the media," Jonas continues…
Of course, the financial media isn't making investing any easier these days. Check out the awkwardly-conflicting stories on Google Finance Jonas grabbed over the weekend: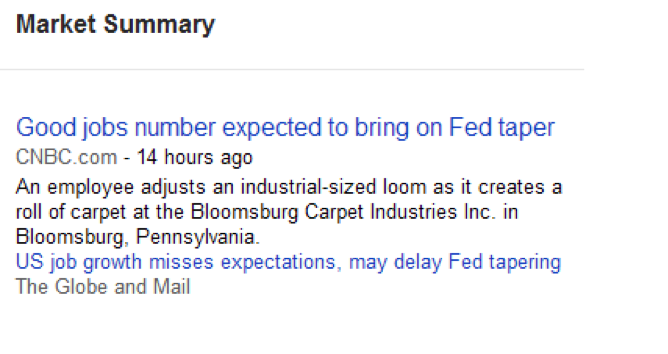 So let me get this straight…
Friday's jobs number was good enough for the Fed to begin tapering. But it missed estimates, so the Fed won't taper just yet. Brilliant.
This is why it's worthless to spend all of your time trying to dissect the incoherent (and often wrongheaded) media guesses about anything that could affect your financial decisions. It's theater–not analysis…
"Yes, the Fed's taper is still in the spotlight in September. So is President Obama's Fed Chairman nominee — another drama-filled piece of political theater," Jonas says. "Syria is guaranteed to be a headline-grabber too. But while CNBC was trying to make heads or tails of how Friday's jobs report made the market go up or down, you knew better."
September is going to be a noisy month. Let everyone else worry about tapering, Syria and the new Fed chair. All you have to do is trade your plan. Small-cap and mid-cap names are showing strength. You should have a short list of names to buy in case we do see this bounce materialize into a stronger mover higher…
Regards,
Greg Guenthner
for The Daily Reckoning
Ed. Note: Trading your plan is all well and good. But what if you don't have a plan? Or worse… What if your plan isn't working? Every morning Greg Guenthner gives his Rude Awakening subscribers a unique and unfiltered take on the markets at large. This essay is just one small portion of the analysis they're getting. Greg breaks down a list of daily numbers and facts you also need to know. Sign up for free, right here, and start getting all the info you need to profit in these up and down markets.