Escape Your Boring Life with These 3 Trades
Today's headlines are bleak:
Democrats are under pressure to oppose anything Trump wants…
The next phase of Brexit is about to begin…
Satellite images show North Korea prepping a new Nuclear test…
It feels like the world is falling apart. It's almost enough to convince us to sell everything we own and move to a cabin in the woods.
But the Wi-Fi out in the wilderness is spotty at best. Living three hours away from the nearest Trader Joe's is also deal breaker. What we need instead is a quick escape from reality…
We're not alone.
According to the stock market, a little break from reality is becoming increasingly popular these days. You don't have to dig too deep to find the proof, either…
Carnival Corp. (NYSE:CCL) impressed investors with a solid earnings report yesterday. The cruise line's performance was driven by increased demand and a strong booking period, management says. The company even increased earnings guidance for the year.
The American public is clearly sick of the political turmoil pumped into their living rooms every night. Everyone's tuning out the noise, opting instead to chug sugary mixed drinks while they ride four-story waterslides on a boat.
Carnival shares tagged new all-time highs after releasing earnings yesterday. The stock is up more than 23% over the past six months, compared to a gain of 8.6% for the S&P 500.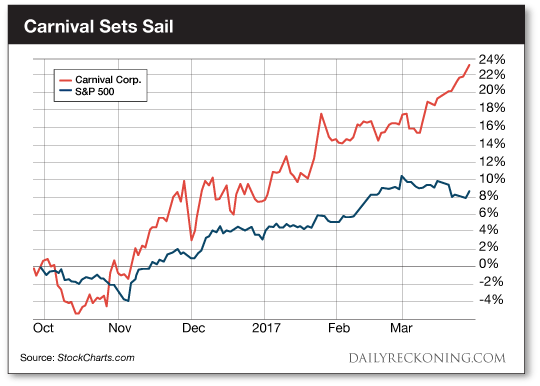 But maybe a cruise isn't your style. You want to get away from it all without leaving your couch. If that sounds like a good time, legal weed might be for you…
Canada just announced recreational marijuana will become legal nationwide on July 1, 2018. The legalization wave has already crashed on the shores the West Coast here in the U.S. According to the experts we've interviewed, we could see completely legal weed in the U.S. in five years or less. That's sparking a wave of speculation in the industry.
"The market for pot stocks is a sleeping giant that is awakening," our own Ray Blanco explains. "And sure enough, after a pretty normal correction, that's exactly what we're seeing this week."
Select pot stocks are starting to push higher. The bullish sentiment is spilling over into the rest of the publicly traded pot industry too. [Ed. note: Click here to learn how you can find the best hidden investments in the pot market by using Ray's proprietary Penny Pot Index.]
But maybe cruise ships and smoking pot just don't do it for you…
Don't worry – Vegas is open 24-7. It's the perfect escape for anyone who needs a break from the Trump headlines.
You don't need to put all your chips on black to make money in Vegas, either. Let someone else make a long-shot bet while you play the market's odds for double-digit gains.
The best part is you don't even have to go to Las Vegas to make money. The house always wins—so we're going to bet on it!
Casinos make millions from gamblers. But casino stocks over the past couple of years have been losing bets for investors. The VanEck Vectors Gaming ETF (NYSE:BJK) peaked in early 2014. Then it crapped out for two straight years, robbing investors' chips for a solid 24 months.
But it finally looks like these stocks are reversing their fortunes. News that the NFL approved the Raiders' move to the city is also helping to boost shares.
As a result, the VanEck Vectors Gaming ETF is back in betting form this week as it pushes to new 52-week highs. After a rough couple of years, these stocks are starting to outperform once again. BJK is now up 11% year-to-date. And it looks like this breakout is just getting started…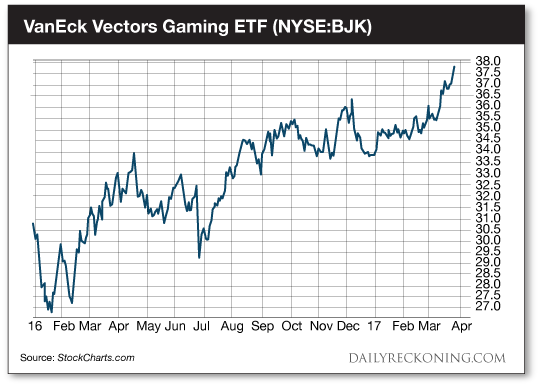 Reality bites. As more Americans tune out the chaos in favor of these escapes from reality, the companies that help them forget their troubles will continue to shine.
Sincerely,
Greg Guenthner
for The Daily Reckoning