Don't Run Scared from All-Time Highs
It was another big, bullish day for the Russell 2000 small-cap index yesterday.
While the broad market struggled to keep its head above water, small stocks were at it again, digging themselves out of a hole for a 1% gain on the day and new all-time closing highs. It's tough to feel too bearish in a market where riskier stocks are leading us higher. All-time highs lead to clear skies above.
There it is again: all-time highs. It feels like we just can't escape that phrase…
Of course, a lot of investors are afraid that buying the highs is for lemmings and idiots. They don't want to get caught up in another devastating flush. It's better to not even venture into the markets, they reason. After all, hanging onto no gains at all feels lot better than losing your shirt.
I told you earlier this week that the latest round of new all-time highs has spooked quite a few investors. But that's only because most market participants haven't studies their history books. If they did, they would know that 127 new all-time highs have been made during the average secular bull market since 1949.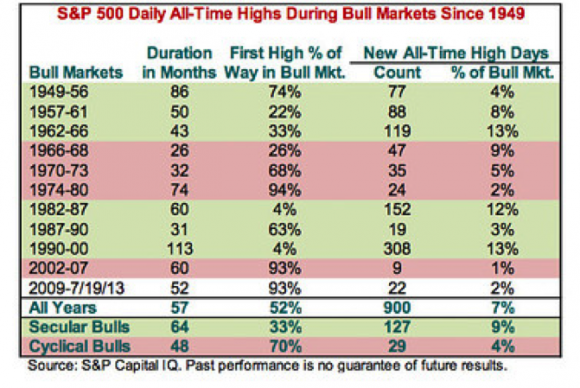 During the 1982-1987 bull, the market notched 152 all-time highs. Since the market turned higher in 2009, we've only seen 22 new all-time highs so far. That's even less than the average all-time high tally from cyclical bulls. Any way you slice it, new highs aren't generally a cause for concern…
You can ignore any bearish discussion about new highs for now. Instead, watch the market as it consolidates at these levels. Buying opportunities abound for traders and investors alike…
Regards,