You Don't Have to be Crazy to Buy Gold
The smart money continues to jump on the gold bandwagon.
The latest gold bull to show himself is billionaire fund manager Paul Singer. He thinks the rally we've seen in gold so far this year is just getting started.
"It makes a great deal of sense to own gold. Other investors may be finally starting to agree," Singer writes in a client note. "Investors have increasingly started processing the fact that the world's central bankers are completely focused on debasing their currencies."
Now we can add Singer to the list of big-name investors who are getting bulled up on the Midas Metal. Just last week, Stanley Druckenmiller—billionaire investor and former George Soros protégée— advised the crowd at the Sohn Investment Conference attendees to sell stocks and buy gold.
In fact, money managers of all shapes and sizes are moving to gold.
"Money managers boosted their net long positions to the highest since 2011, when gold prices surged to a record," Bloomberg reports. "Wagers on price gains climbed 27 percent in the week ended May 3, days before a Labor Department report showed U.S. employers added the fewest workers in seven months, weakening the case for the Federal Reserve to raise rates."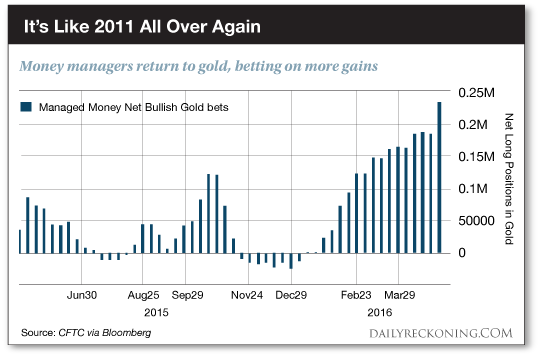 Things certainly have changed over the past five months.
If you traveled back in time to December and told the average investor that gold would be the best performing asset of 2016, they would have laughed in your face. And gold certainly wouldn't have earned a spot in the finance section of any major newspaper.
Yet here we are…
Precious metals are indeed among the year's top performers. Gold's up more than 20% year-to-date, while the S&P 500 is up just 1%.
But the comeback move in commodities this year hasn't been a smooth ride. That's certainly true for precious metals. Whipsaw moves have followed nearly every breakout. This week is no exception. Gold tumbled 2% on Monday just after it shot to $1,300 an ounce to kick off the new trading month. It's spent the rest of this week clawing its way back.
The reason for gold's bumpy comeback is simple: Most folks expect this rally to fizzle. So they don't know what the heck to make of precious metals or mining stocks right now.
"Many investors can't seem to get it right when it comes to gold mining stock ETFs," our own Jim Rickards explains. "Investors are also increasing allocations to inverse gold miner ETFs (that's where the ETF price goes down as the price of gold goes up)."
Jim notes that psychology and human nature are at play here. Remember, investors have endured a five-year gold bear market. Every rally up until this year died out, eventually ending in new lows for gold. And that's what many investors are expecting to happen any day now as gold climbs back toward $1,300.
But here's what the headlines aren't telling you…
You don't have to be crazy to trade precious metals.
I know we're dealing with what feels like a record amount of insanity in the markets these days. But the charts don't lie. Gold and precious metals miners have broken free of a bear market that has held these stocks back for years…
We've banked double-digit gains on several gold miner plays already this year. And we're just getting started. We'll need to be nimble—but I foresee many new opportunities to trade gold's comeback move in the coming weeks and months.
The biggest gains are made while the herd is still blind to a big move off the lows…
Sincerely,
Greg Guenthner
for The Daily Reckoning
P.S. Make money in a falling market–sign up for my Rude Awakening e-letter, for FREE, right here. Stop missing out on the next big trend. Click here now to sign up for FREE.