Dead Malls of America Strike Back!
While we've patiently waited for everyone to shut up about the election, the downtrodden retail sector has quietly geared up for gains.
To be fair, everyone under the sun hates these stocks…
After all, the American consumer is washed up. Traditional retailers are collapsing. Derelict shopping malls dot the country.
It's no secret that the retail sector has become a wasteland. Jeff Bezos and his army of same-day Amazon delivery drivers have gutted every brick and mortar store in their path. Flea markets and specialty boutiques are the only survivors.
But today, you're going to see how you can actually make quick gains by betting on these maligned retail stocks as they rise from the dead.
That's right—retail stocks are beginning to perk up as we approach the final leg of earnings season. Investors are cozying up to these forgotten stocks as the market continues to rip higher.
I can't say that I blame them. Retailers left and right are flashing bullish signals after more than a year in the doghouse.
The S&P Retail Index ETF (NYSE:XRT) hit the skids about midway through last year. But after bottoming out in February, XRT found renewed life. Now, it's finally starting to attract some serious buyers for the first time in more than 12 months…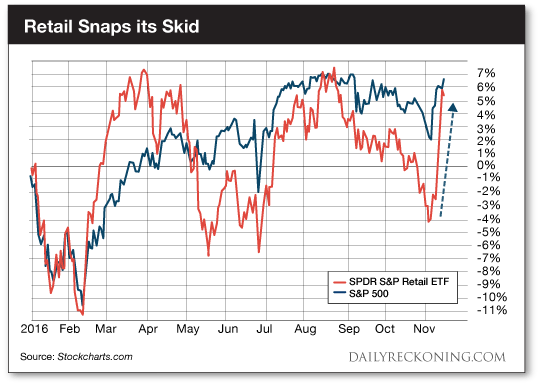 But that's not the only reason retail stands to march higher…
Retail stocks are quietly putting in a heck of a quarter. We're seeing plenty of retail names beating expectations. Almost 40% of retailers in the S&P 500 beat revenue expectations. Total revenue for the sector is expected to see an increase of almost 6%.
Retail sales are also jumping to two-year highs this month. Expectations are getting back on track. With retailers gearing up for Black Friday and Cyber Monday sales, we're seeing conditions emerge for retail sales to soar through the fourth quarter.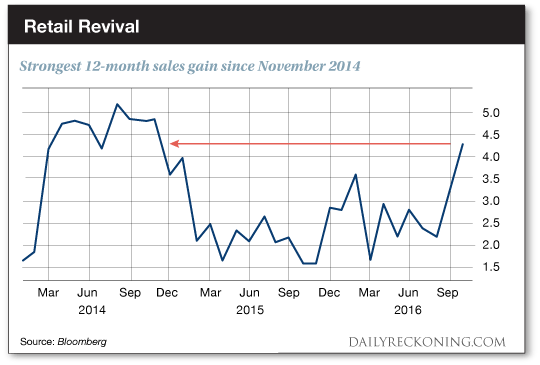 Even the big retail names that Amazon has pummeled are starting to get back on track. Target Corp. (NYSE:TGT) shares are up as much as 9% in pre-market trade today after obliterating analyst expectations "thanks to improved traffic and sales trends that helped power its profits," CNBC reports. Target also raised fourth-quarter sales forecasts.
No one is expecting much from retail stocks right now. With expectations so low, it will be easier for many of these companies to beat their numbers and enjoy a nice little holiday rally. We'll be looking for results like Target's to "trickle down" the ladder to some of the smaller retailers on the market…
Sincerely,
Greg Guenthner
for The Daily Reckoning