Cuckoo for Cocoa Profits
You probably don't look for trade setups in the checkout aisle of your grocery store. But you should — especially if you're looking to book some sweet gains this year…
Today, we're leaving the wild world of stocks behind for a sneak peek at a stellar commodity uptrend. You already know the market's not off to a strong start this year. But even if stocks continue to slip, you have the chance to bank profits in a space you might have never even considered.
I'm talking about chocolate. Cocoa, specifically. You might have caught wind of candy manufacturers getting the squeeze from higher cocoa prices. Many have even resorted to supplementing recipes with alternative ingredients or even shrinking their serving sizes. According to one industry analyst, the price of the raw ingredients to produce a generic milk chocolate bar jumped more than 28% last year.
"A third consecutive year of cocoa production deficits is indeed troubling news for Snickers addicts (I hear they prefer to be called 'chocolate aficionados')," quips Rude researcher Noah Sugarman. "But it is good for investors looking for solid returns among the agricultural commodities."
As production shortfalls reach significant levels, many analysts are now projecting the price of cocoa to hit three-year highs at some point this year…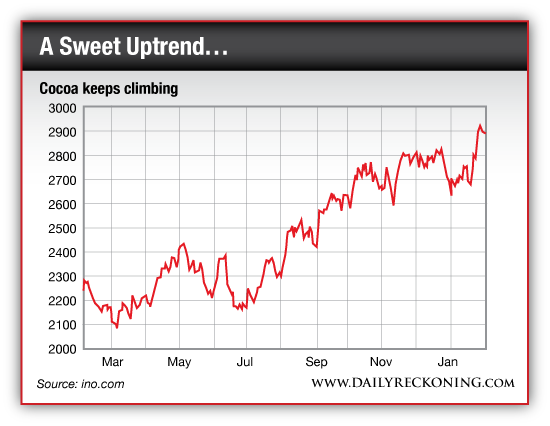 That means cocoa could turn out to be one of the few reliable commodity trades of 2014. It was already a solid play in 2013, even as agricultural commodities as a whole got a thorough trouncing. Moreover, increased global demand is likely to solidify further price hikes.
Regards,
Greg Guenthner
for The Daily Reckoning
P.S. In an environment where stocks are drifting lower, cocoa is looking like a solid commodity bet. And in today's Rude Awakening email edition, I gave readers a chance to discover a great way to play it. Sign up for the FREE Rude Awakening email edition, right here.