Calling an End to the Correction
After giving back more than 2% last week, the broad market continues to rally.
Anyone who was caught in the summer selling vortex is breathing easier this morning. Futures are holding steady. The S&P even squeaked back above 1,600 before yesterday's close.
So that's it, right? Correction's over. Shut down the computer and go back to the beach.
Not so fast…
"I'm starting to hear a lot of chatter that Monday was a bottom," writes technician Jonas Elmerraji. "And while it very well could have been, the arguments sound a whole lot more like hope than evidence-driven analysis. The last two days have come with some strong buying in stocks, but zoom out and it all looks a whole lot less impressive. Someone had better tell the bulls that you can't 'hope' the market into action."
After a panicky week, investors now believe the correction is dead on arrival. They say the markets misread the Fed, and we'll quickly go back to setting new highs like nothing happened. Yet despite stocks fighting higher this week, there remains a lot of work to be done before we can rest easy.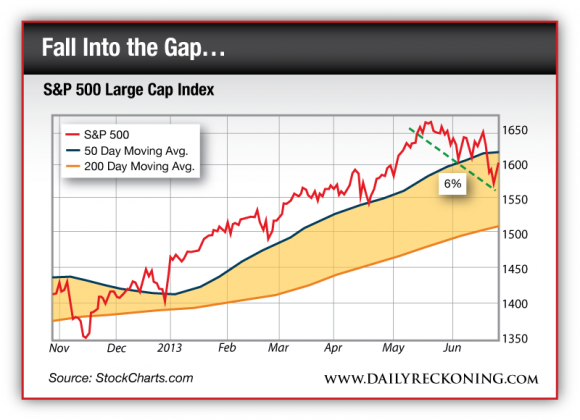 From the May top to Monday's lows, the broad market has endured a correction of about 6%. We've already witnessed the S&P lose 1,600, only to reclaim the round-number achievement four trading days later.
However, what I told you earlier this week remains true. The uptrend that shot the S&P from a low of 1,350 to new all-time highs is behind us. Now's not the time to get hopeful. Instead, let's take a look at what this market needs to do in order to get back on its feet.
First, the S&P has to top its 50-day moving average near 1,620. From there, it has to contend with the lower high posted just above 1,650. That's a lot of work. I doubt the market snaps back with the speed and tenacity with which it fell from these levels just a few days ago.
Remember, we're in no man's land right now. There's a big space between the 50-day and 200-day moving averages for the S&P to wander as it sorts through the current correction. Don't get too caught up in the emotional day-to-day swings of the market. A trend isn't made in a day…
Regards,