Bullish on Brazil
"It's only starting to get bad now," said Carol, bending down with both hands on the table. She was saucy, like most of the women we met working in restaurants and shops. "It's still good here. It's just that it used to be really, really good…"
Some back story is necessary. But we have lots to tell you, so we'll summarize it two pictures.

Here was The Economist cover in 2009: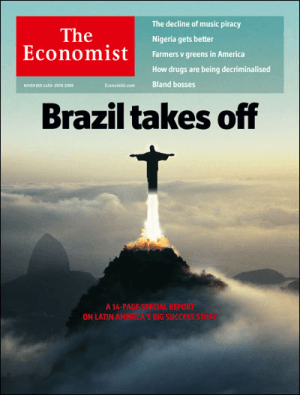 Four years later, in 2013, here was a follow-up: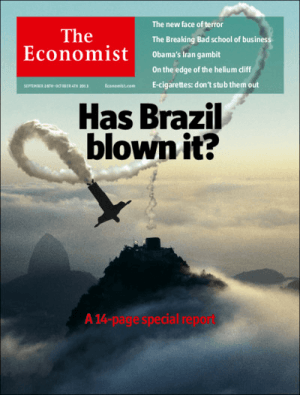 The question on the table is one of species. Bear or bull?
To blow the ending, we're bullish. If you had to pick a country to invest in for the next decade — the U.S. or Brazil — we'd say go long Brazil.
From the fashionable Itaim district of Sao Paulo, we spoke with Caio Mesquita. We introduced you to him in Tuesday's episode. Caio's the co-founder of our Brazilian publishing partner, Empiricus Research. As we also told you then, Brazil is mired in political scandal… deficit spending… high interest rates (15%)… rising unemployment (7.6%)… and high inflation (10%).
"The country is paralyzed," explained Caio. "They don't know what the government is going to do next. Businesses are not investing right now. People don't know if Dilma Rousseff, our president, will be impeached. We don't know who would take over for her if she were…"
Caio and his team called Rousseff's election. They've also have been saying that her impeachment is probable for months now — even when it still seemed far out. Their readers are grateful.
"I would think that the real would strongly rejoice" if Rousseff were impeached, added our friend Chuck Butler in this morning's Daily Pfennig. "All you have to do is go back to the last election. For six months before the election, it appeared that the challenger to Rousseff would win, and the real was enjoying its best six-month run in a few years. Then the fix came in, and in a surprise, Rousseff won re-election, and the rest is history for the real.  
"So if traders thought Rousseff would lose during the election and they pushed the real up in value, I would think the same thing would hold true if she were impeached."
Meanwhile, the dollar has been the Empiricus team's recommended asset. We're told it's not common for Brazilians to buy gold. Caio explained: "It's difficult to explain how to open an account to buy gold here, not to mention the difference between allocated and unallocated accounts and storage and delivery protocols. It's much easier to recommend buying dollars."
This may have something to do with it…
Since 1942, Brazil has gone through seven different currencies. Compared with Brazil's scrip, the dollar is gold:

Mil reis, 1833-1942

Cruzeiro, 1942-1967

Cruzeiro novo, 1967-1986

Cruzado, 1986-1989

Cruzeiro, 1990-1993

Cruzeiro real, 1993-1994

Real, 1994-?
Since 2011, the real has fallen nearly 50% against the dollar. Brazil, more than any other emerging market, has racked up dollar-denominated corporate debt. Companies' assets and revenues are recorded in reals… but their bonds need to be paid back in dollars.
When the real falls 50% against the dollar, those companies' assets fall 50% in value relative to their liabilities. That's not good. "Right now it's very hard for us to do business with the currency," said a fiance of one of the Empiricus employees. He worked in marketing for Philips just outside of Sao Paulo. "We're cutting back."
The central bank of Brazil is now hiking interest rates and using their currency reserves to try to halt the bleeding.
"There's a saying that helps explain our mood around here," Guilherme Esquelbek told Bloomberg this morning. Mr. Esquelbek is a currency trader at Correparti Corretora de Cambio in Curitiba, Brazil. "When the sea is this turbulent, the only thing you can do is sit on the sand and watch. It's not time to get in a boat."
There is another saying, one more cliche but timeless: Buy when there's blood in the streets.
That's figurative, of course. The sidewalks of Sao Paulo and Rio de Janeiro (where over 50% of the country's GDP is generated) are bustling, not bleeding. The restaurants are full. The people happy.
Only the tape is stained red. Government bonds are now junk. Corporate bonds issued by Petrobras — Brazil's massive state-owned oil company — are trading at distressed levels. The Bovespa stock index has fallen for six straight days — down nearly 5%. $24 billion in paper wealth has evaporated. Since 2008, Brazilian stocks are down 42%. "But mostly," explained another Empiricus researcher, "foreigners invest in our stock market. Not a lot of everyday Brazilians do."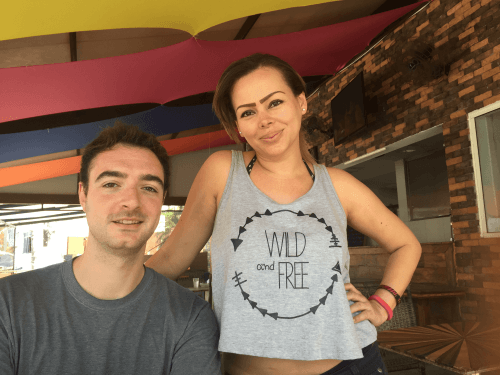 Meet Carol. We hear cosmetic surgery is a constitutional right in Brazil…
That brings us back to Carol. We started off today's reckoning talking about her. She studied journalism in school, but now is a waitress at Mirante Bar — a neat hangout at the very top of a Brazilian slum called favela do Vidigal.
"Now it's just starting to get bad for ordinary Brazilians," she explained after bringing a can of Skol — a Brazilian beer. "Two years ago, Brazil was one of the countries with India and China, the countries that were going to keep growing.
"But most people don't expect it to get too bad right now. Business is good with the Olympics coming next year. A lot of people have been coming to Rio. In the country, there are things that are getting worse. But in places like Rio, things won't get bad until next year. A lot of businesses are opening right now because of the Olympics… restaurants, bars, hotels, tourist agencies… you see money coming in all the time.
"Only after the Olympics will those people see the reality. That will be a problem…"
That said, Brazil has some long-term advantages that make it promising. It's the world's fifth-largest economy already, and it has a young population. The U.S. is slowly becoming a nation of geriatrics. Our major age group is over 55. Meanwhile, Brazil's biggest age cohort is near 30.
To boot, Brazil is oil and water rich… and has abundant and fertile land for agricultural production. The cities are more modern than those of many of the other South American countries I've visited.
By themselves, these factors don't mean anything. But they can't hurt. Moreover, the weak real is really a strong-dollar story. (Read Jim Rickards' Sept. 2 Daily Reckoning for a refresher course on why.)
If Janet Yellen opens the money spigots again — something colleague Jim Rickards is eyeing in the year ahead — the real and most other emerging-market currencies and stock markets could see a reversal. Currency wars are the gift that keep on giving.
You might want to check out the iShares MSCI Brazil Capped ETF (NYSE:EWZ). It's a gamble, but if you have money to play with, it could generate a nice return depending on what the Fed does in the year ahead.
Cheers,
Peter Coyne
Editor, The Daily Reckoning
P.S. Tune in tomorrow to watch clips of me on a motorcycle. I hopped on one to go up the corkscrew road winding up favela do Vidigal — one of the slums in Brazil I mentioned. I'll include other pictures, videos and descriptions, too…