Beware: Everybody's Bullish
I love the wall of worry. You should, too.
A little fear in the markets is an important ingredient for gains. Traders chew their nails over every little negative news event. The media spits out some ridiculous hype. Meanwhile, stocks climb higher. It's a beautiful thing. You might even say a tall wall of worry is one of the main reasons 2013 turned into such a productive year for the market…
But this year is a different animal. In fact, most investors are apparently using the exact same market playbook. Just check out this research note from the vampire squids at Goldman Sachs:
Almost all [institutional] clients have the same outlook: 3% economic growth, rising earnings, rising bond yields, and a rising equity market.
It's nice that institutions are all holding hands during their three-martini lunch dates. But I doubt the market will be as easygoing and predictable as most seem to believe. When everyone comes to the same conclusion, it's time to get skeptical.
Just look at the latest sentiment numbers from Investors Intelligence…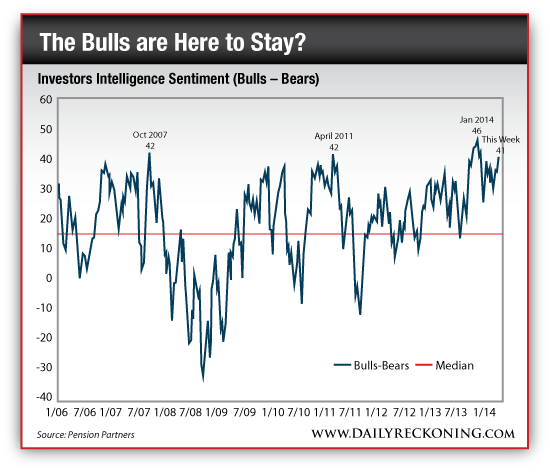 "Last week's poll showed 58.3% Bulls and only 17.3% Bears," explains Pension Partners Director of Research Charlie Bilello. "The spread between Bulls and Bears of 41% is higher than 94% of historical readings and at a level from which further equity gains were much harder to come by."
For the record, Charlie says he doesn't foresee a sharp decline materializing despite the extreme bullish readings. Neither do I. But that doesn't mean we should ignore the numbers…
"Buffett instructs investors to be 'fearful' when others are greedy, not to 'sell short' when others are greedy as markets tend to rise over time and picking tops is an impossible task. Also, investors can remain greedy for long periods of time," he continues. "What we can say, though, is that the odds of below average returns going forward are certainly higher today than if we saw a more muted level of optimism among investors."
Again, it's not time to sell everything and lock yourself in your underground bunker. But the extreme bullishness coupled with the beginning of a historically weak spot in the market cycle is enough evidence for you to get defensive as summer approaches.
Regards,
Greg Guenthner
for The Daily Reckoning
P.S. Our strategy hasn't changed. Stick to the big, safe stocks this summer. That's the best way to ride out any market weakness. To learn how you can get access to a select group of my favorite "summer investments" sign up for the FREE Rude Awakening email edition, right here.