Better Than Gold: Huge Gains from a Hidden Metals Trade
If you want to get away from the endless political distractions of the world, the stock market is a great place to hide.
The talking heads on TV can scream all they want about Trump, nukes or political extremists. But we know at just a glance that the market is feeling fine. It might seem like the world is falling apart – but Mr. Market assures us that we will live to fight another day.
Despite an afternoon dip, stocks finished the day just in the green. We saw significant gains from several major sectors and industries ranging from semiconductors to retailers.
But today, I want to single out one of yesterday's top performers: copper.
Dr. Copper – the industrial metal that's supposed have a PhD in economics – is launching higher once again. The metal posted new 2017 highs yesterday, extending its breakout. It's now sitting on year-to-date gains just shy of 18%.
Copper's bounce off its summer lows is legit. Now it's time for round two…
Most investors didn't believe copper would ever recover from its lows. Can't say that I blame them. One look at a long-term chart of the industrial metal reveals a nasty bear market. As the commodity super-cycle topped out in 2011, the metal entered a death spiral that lasted nearly six years.
But something changed in over the past 10 months.
The post-election rally back in November was the spark that helped copper snap it's nasty downtrend. After seven months of choppy consolidation, copper jumped back near its March highs late last month and signaled to us that it was ready to make a play at a huge breakout.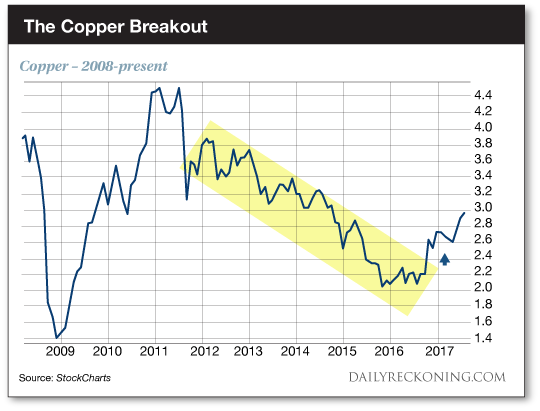 The bulls are now in control. After years of pain, we're finally seeing an extended rally.
When we first jumped back on the copper bandwagon earlier this summer, we told you it had been a long time since we've taken a swipe at trading the commodity. We made out like bandits betting on copper's short-term pops in the past, particularly when no one else was paying attention to the industrial metal. But the trading signals had been few and far between lately.
I can't say that I blame anyone for ignoring copper over the past few years. After all, its boom days are a distant memory. The massive, 10-year rally that pushed copper to gains of more than 600% during the early 2000's is ancient history. When it comes to copper, investors are still stuck in their bear market mindsets.
We don't know if copper is just getting started on another decade-long bull run or if it's simply undergoing some mean reversion after years of neglect. Either way, we're willing to ride the new trend to gains. After years of pain and suffering, a sustainable rally is in the works.
Our favorite copper play Freeport-McMoRan Inc. (NYSE: FCX) has set up perfectly since we took a position last month. We're already up nearly 15% on FCX since we first hopped on board. Remember, buying FCX is like buying a call option on copper without the high commission. When copper jumps, the miner tends to magnify the move.
Yesterday was the perfect example of FCX in action. Copper gained 2.5%, while FCX jumped nearly 6% on the day. The action we're seeing this week is picture perfect. FCX consolidated July's breakout move and is setting up for another round of gains. A break above $15.25 could trigger another round of gains like we saw back in July.
Sincerely,
Greg Guenthner
for The Daily Reckoning