Beat the Stampede - Buy this Tech Stock Now!
Stocks are finally breaking out!
The Russell 2000 small-cap index? Check. Midcap stocks? Double check. Blistering biotechs? Triple check. In fact, The Biotech iShares continued to reach for new highs Monday after last week's jolt.
There are still some weak spots out there, like utilities. But if you're taking the time to zero-in on the strongest stocks in the strongest sectors, you're absolutely thrashing the major averages this year.
And you don't even have to be a great stock picker to beat this market. Those biotech iShares I just mentioned? They're up 20% in just about 5 months. No stock picking genius required there. The S&P 500? Up about 5% over the same timeframe.
And the S&P 500 is playing catch-up to these early breakouts to start off the week. So it's time to look for the stocks that could make the move from mediocre to market leader. And the best place to look is large-cap tech stocks…
So today we're hitching our wagon to one of the strongest stocks in the biz. It's been resting most of the year, but now this sleeping giant is storming back and could be on its way to record highs this summer…
Some of the most recognizable names in the tech space hit the snooze button back in the spring—and they still have yet to wake up from their naps. The Technology Select Sector SPDR (NYSE:XLK) has bested the S&P 500 over the past five months or so. But it's not setting the world on fire.
So if you're looking for excitement this hasn't been the place to find it…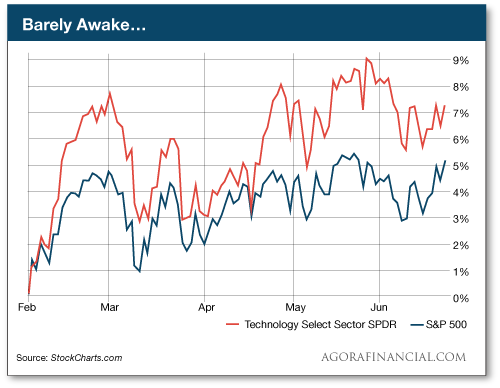 Here are some of the biggest snoozers: Apple, the largest holding in XLK, has gone nowhere since March. Microsoft is flat on the year. Verizon is up a few bucks—but has fallen off over the past six weeks.
But not all of these big techies are playing Sleeping Beauty. In fact, it looks like some of these stocks are starting to wipe the crust out of their eyes. And Mr. Market is pouring a few of these lagging tech stocks a hot cup of coffee as I type…
How about Facebook? Yup, the ol' Facebook is a major tech player now. And shares are looking strong, up 5% so far this month and quickly closing in on its highs. The social media landscape has already started to fracture. Traders are taking the weak names to the woodshed, while the best of the best (like Facebook) march higher. And it's not the only tech stock waking from its slumber…
Google, the king of search, is also getting up off the mat. This stock is now up five days in a row and punching through a trading range it's been trapped in since April.
I think Monday's move higher is just the beginning of another push to new highs for Google. This stock has flat-lined for way too long. Even today it's trading at prices we haven't seen since October. And shares remain well below the all-time highs near $615 set more than a year ago…
Regards,
Greg Guenthner
for The Daily Reckoning
P.S. Don't get crushed by the stampede. If you want to cash in on the biggest profits this market has to offer, sign up for my Rude Awakening e-letter, for FREE, right here. Stop missing out. Click here now to sign up for FREE