Attention Media Hacks: Dow Domination is Coming
The Nasdaq crossed above 6,000 for the first time ever yesterday.
The Dow Jones Industrial Average sprinted ahead by more than 200 points for the second time this week.
After a quiet start to the month, the major averages are ripping toward all-time highs. Stocks are insanely strong right now.
But I wonder – did anyone even notice?
The Trump rally fell off the mainstream media's collective radar weeks ago. Fact is, most folks don't care about the stock market anymore. They're content to slosh through the political gossip with the rest of the swamp people.
Don't believe me? Check out this screenshot I grabbed yesterday morning from the fake news experts over at CNN as the major averages ripped higher:
Stock market mentions: zero. But don't worry – you'll find plenty of political noise.
There are a lot of market watchers out there who like to say we're experiencing the most hated bull market of all time. That's a bold statement. But I don't know if it's true. In fact, I believe we could be in the midst of the most ignored bull market of all time.
But I'm fine with either hate or indifference. The herd can stay on the sidelines and bicker about political headlines all year. The market loves to rally in the face of skeptics. That's exactly what we're seeing right now. More pundits calling a "top" to this rally is just adding fuel to the fire.
When you turn off CNN, a clearer market picture begins to emerge. Stocks are trying to tell us something right now. The mega-cap tech stocks aren't the only game in town anymore. As we dive deeper into earnings season, some household name industrial stocks are making some serious waves…
Perennial loser Caterpillar Inc. (NYSE:CAT) provided the biggest boost to the Dow Jones Industrial Average yesterday. The company raised earnings guidance and reported growth in its construction business. Shares soared nearly 8% on the day.
Keep in mind, Caterpillar is one of those big industrial firms that's done nothing right over the past few years. Slow global growth has ripped its earnings power to shreds. Something's changing.
CAT wasn't the only big earnings winner. Scotch tape icon 3M Co. (NYSE:MMM) also reported better than expected earnings and raised its 2017 profit forecast, according to Reuters. The news sent shares to new all-time highs. Meanwhile, DuPont Co. (NYSE:DD) shares rocketed higher by more than 3% after reporting quarterly earnings. The company lowered its quarterly outlook—yet still managed to pull off an impressive rally.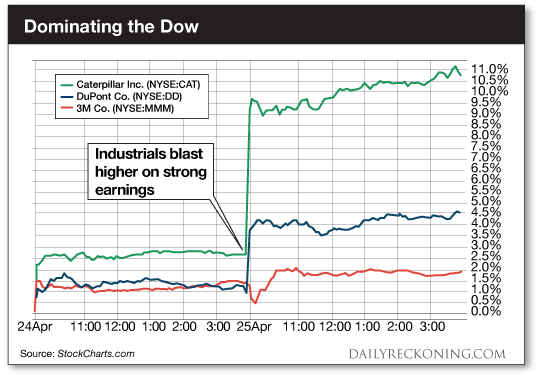 What little market news the media is filtering out to the masses these days is about Apple, Facebook, Amazon or Google's dominance. Don't get me wrong—these are great companies. They're the biggest names on the market. And they're crushing it right now. The Nasdaq 100 is up almost 15% year-to-date. The S&P 500 is up 6%. No contest…
But we can't sleep on these big Dow names everyone's ignored for the past few years. This week's earnings should serve as an official wake up call. The Dow is ready to dominate…
Sincerely,
Greg Guenthner
for The Daily Reckoning