A Debate on the Hill Where Shining Cities Used to Stand
"Just tell us the article is a commercial before writing it!" writes one disgruntled reader.
Last Friday, we brought you a very different kind of Daily Reckoning. Some of you were intrigued by what we had to say, some others… not so much.
"I find your email solicitation regarding a stem cell company an invasion of my privacy," writes another, "and a huge waste of my time before finding out that it is just another solicitation."
The DR: A commercial? You knew the difference between pluripotent and totipotent cells before you read that essay? And the promise they hold to eliminate something like heart disease? Recall we wrote that day about innovators making the world better. And while iPS cell therapy may be controversial, it is, nonetheless, a perfect example of how entrepreneurial acumen can greatly improve our lives.
It is also our job to show you new investment opportunities that have yet to go mainstream. We owe it to you to pass along this information. In fact, we'd be doing you a disservice not to. Billions of dollars have been poured into iPS research globally and new applications for this therapy are still being discovered.
Turning your focus away from stem cells, the major U.S. stock indexes bounced back from Friday's slump, starting the day up 1% on positive manufacturing and construction data. But does a 1% gain in the stock market make the average guy feel wealthier? Judging by this… no.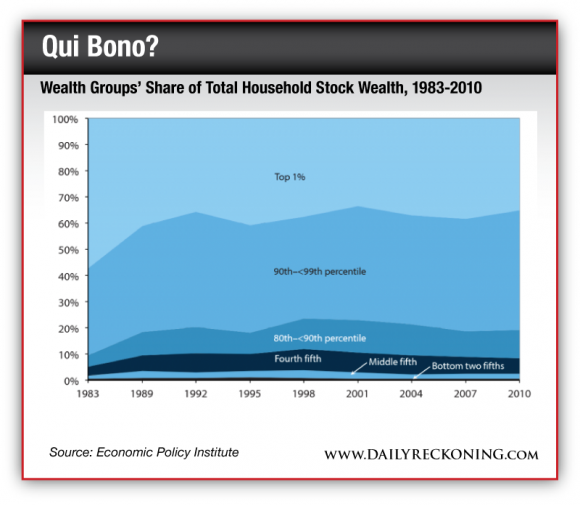 That's the problem with this "recovery." "No matter what happens to the U.S. economy in the future" writes one reader, "things are bound to get tough for the working class because of taxation, regulations and crippling debt loads.
We would amend our reader's point: Things are about to get even tougher for the working class.
Two economists, John Dawson and John Seater, published a paper last month in The Journal of Economic Growth showing what might have been for the average working American today.
They calculated how wealthy we would be today if government regulations stayed at 1949 levels. According to them, U.S. GDP would be $55 trillion — more than three times higher than it is today. And the average American would make 525% more per month, or $27,500, instead of the median monthly income of $4,400.
That's six times the current standard of living. And that number is low — because Dawson and Seater's conclusions don't include state, local or any of the new federal regulations under Bush or Obama.
According to The New American, "There were only four years in [a] 56-year span when federal regulations declined: once under Reagan, and three under Clinton. In every other year, regulations increased, moving from 19,335 pages in 1949 to 134,261 in 2005."
It's facts like those that prompted this softball question in the weekend edition: Almost 237 years on, has America strayed from its roots or is it still a shining city on a hill?
"Shining city? More like a sh***y city owing bills," one reader eloquently replied.
"After watching our idea of freedom deteriorate to the state it is in today" writes another, "I feel I have wasted the most productive years of my life… There seems to be nothing I can do about it anymore — believe me, I have been trying. There's nowhere else to go on this planet to create another America, Land of the Free."
Maybe this will help. The Mercatus Center at George Mason University updated its Freedom in the 50 States project. It's a comparative look at all 50 states showing which has the highest economic freedom, low tax burdens, sound property rights, etc.
As you can see below, North Dakota is the top dog for overall freedom, and its southern counterpart takes the No. 2 spot.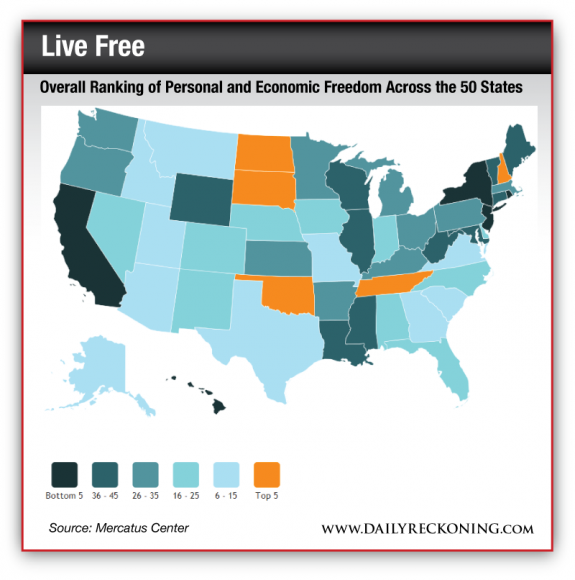 Crossing state lines might seem lame, but relocating to the right state could help protect your wealth when the next big financial crisis hits or help you experience a level of privacy that you might not experience elsewhere.
Regards,
Peter Coyne
for The Daily Reckoning
P.S. Protecting your own personal wealth from the long arm of the government is one of the most patriotic things you can do. And Daily Reckoning readers have a leg up in that regard. Click here now to start received the Daily Reckoning email edition for regular opportunities to preserve and even grow you wealth before the government can take any more of it away from you.