3 Reasons Why You Should Buy Retail Stocks Today
Hey— it's your fault the economy's stuck in neutral. That's right— you.
You're just not spending enough money, you penny-pinching miser. Don't you know our economy depends on you spending every red cent of your paycheck on crap you don't need?
But nooooo… You'd rather save your damn money instead:
"Americans did something unusual in January: They pinched pennies," The Wall Street Journal reports. "Despite strong income growth, savings rose sharply for a second consecutive month to 5.5% of disposable income. While much of the windfall from falling pump prices was being spent during the late fall and early winter, consumers pocketed it instead in January."
So you would think the big consumer names suffered through the first quarter because of cheapskates like you, right? Nope. Just look at retail stocks. The S&P Retail Index has surged higher by more than 23% over the past six months. And even after a slow start in January, the index is up nearly 6% year-to-date. That blows away the S&P…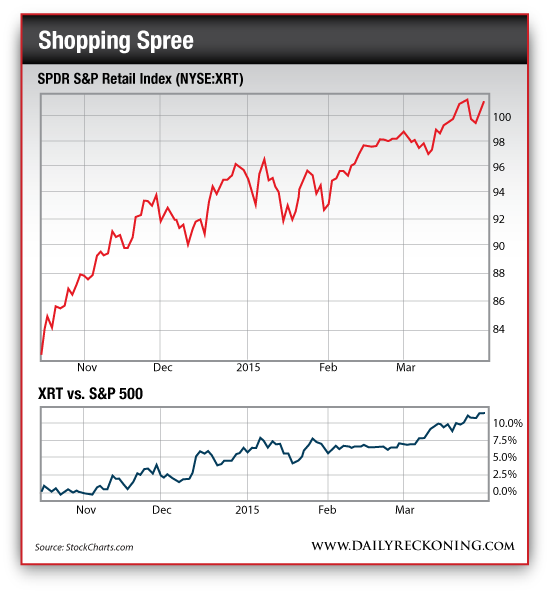 So maybe you're not the tightwad I thought you were.
Maybe all this penny-pinching talk from the Journal is bogus. Could be…
I see three strong reasons why the U.S. savings rate won't tick much higher—and why consumer stocks will keep rising:
The Trend is Your Friend
Retail stocks have solidified their spot as market leaders. Many key retail companies saw their stocks sprint to new highs despite tough winter conditions that kept people holed up in their homes. We just can't ignore that kind of strength. Powerful trends like this are like locomotives ripping down the tracks at 90 miles an hour. It takes a ton of force and time to stop them…
Gas remains cheap
Low prices at the pump offer an instant "pay raise" to those consumers who need it most. And I have news for you buddy—cheaper gas is here to stay for the foreseeable future. That means more money in the pockets of anyone who leaves the house on a regular basis. It also means more disposable income going to retailers.
Wages and employment numbers are solid
What else can I say? Unemployment is near lows we haven't seen since before the financial crisis. Wages are also beginning to increase – even Walmart just gave nice raises to nearly half a million employees. Plenty of positives here to help restart consumer spending after this long, gloomy winter…
Now get off your butt and get yourself to the mall. It's your patriotic duty!
Regards,
Greg Guenthner
for The Daily Reckoning
P.S. Now get off your butt and get yourself to the mall. It's your patriotic duty! If you want to cash in on the biggest profits this market has to offer, sign up for my Rude Awakening e-letter, for FREE, right here. Stop missing out. Click here now to sign up for FREE.