2 Can't-Miss Charts for "Scary September" Trading
Welcome to September—a horror show of losses for investors throughout recorded history.
Statistically, we're entering the worst trading month of the year. Since the beginning days of the Dow, September is the only month that has averaged a loss. Over the past 120 years, September has posted an average drop of more than 1%.
As summer draws to a close, stocks remain trapped in a tight range. The S&P 500 limped toward a small loss in August. The commodity rally is losing steam. Momentum is diverging. Yet the major averages remain just a breath from their all-time highs.
Most market watchers don't know what to make of these conflicting developments. They're terrified of what the beast of September might bring. Analysts aren't any different. They're desperate to call for a pullback in stocks. But they're not sure where to begin. Just look at this headline:
That sounds about right.
One of the ways you can weather a potential September storm is by keeping a close eye on the charts. The market is changing fast. Blink in September and you risk missing important developments that could make or break your 2016 returns.
I've spotted 2 key charts you have to watch as we begin the new trading month. These trends will serve as important market barometers as we speed toward the fourth quarter. They also have the potential to turn into lucrative trades.
First up is the death of the safety trade.
We first alerted you to this phenomenon back in July. We noted that Investors have gobbled up anything and everything with a decent yield this year. They've bid up utilities and consumer staples stocks to prices not seen in decades.
Utilities alone rose more than 21% during the first half of 2016. That's the sector's best performance in over 25 years. Consumer staples names jumped nearly 10% over the same timeframe. That's crazy—especially when you consider that the major averages barely squeezed out a gain over that 6-month period.
But that all changed in just a few weeks. Since late July, The utilities sector has dropped 7%.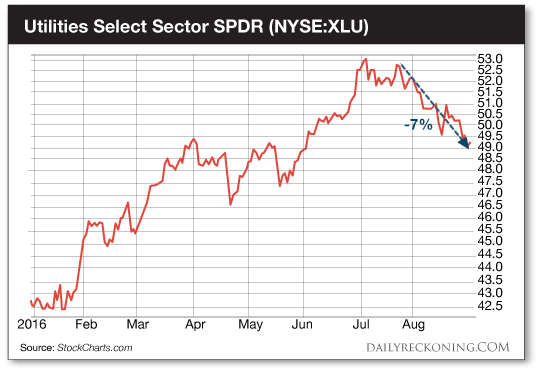 "The most popular trade of 2016 is showing more signs of unwinding," Bloomberg reports. "Shares in dividend-paying companies in defensive groups — utility, phone and consumer staples — are trailing the S&P 500 Index in the third quarter by at least 5 percentage points after outperforming by more than 6 points in the first half."
Meanwhile, bank stocks are breaking out.
Financials are ripping higher, indicating that we might be on track for a rate hike before the end of the year.
Remember, this sector had lagged the major averages so far this year. It's also one of the few places on the market that has yet to top its 2007 highs.
That could all change soon enough. A post-Brexit surge has financials up more than 4% year-to-date: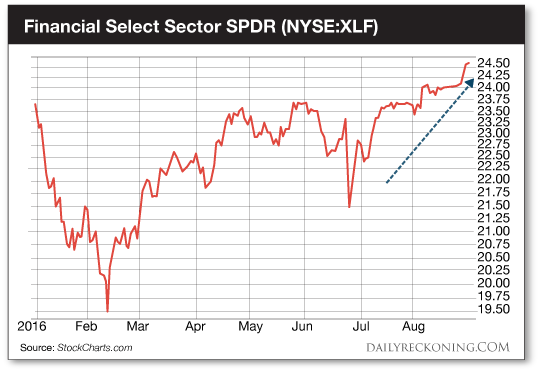 The big, bad banks are surging…
"Shares of Morgan Stanley, the biggest beneficiary of the summer rally among the largest U.S. banks, rose by 12% in August," The Wall Street Journal reports. "Bank of America Corp. shares added 11% and Citigroup Inc. shares increased 9%. The financial sector also includes shares of insurers and other firms."
With banks leaping higher and a resurgent U.S. Dollar emerging, the market is beginning to entertain the idea that higher rates are on the horizon. Adjust your portfolio accordingly.
Sincerely,
Greg Guenthner
for The Daily Reckoning
P.S.  Make money in ANY market –sign up for my Rude Awakening e-letter, for FREE, right here. Never miss another buy signal. Click here now to sign up for FREE.