1 Bitcoin = 1 Oz. Gold?
Today, one bitcoin is trading for the same price as an ounce of gold.
The price of bitcoin has surged almost 200% over the past year. Yet some experts think the cryptocurrency is still too cheap.
In fact, a talking head popped up on my TV yesterday and predicted that bitcoin would jump another 150% to $3,000 before the end of the year. That's a wild guess if I've ever seen one…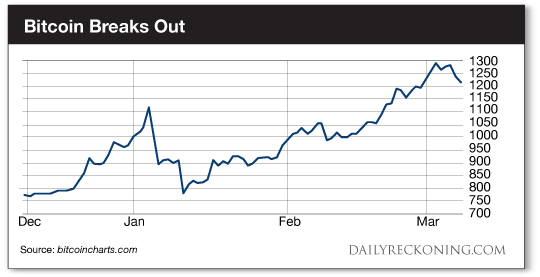 I'm not certain bitcoin can continue to rise uninterrupted at its current pace. But we are seeing more developments in the global war on cash that could act as powerful price catalysts. China's crackdown on money laundering and demonetization in India have both help increase bitcoin's popularity as a store of value, CNBC notes.
But until we see some more traditional means of trading bitcoin, we're going to stick to the mainstream alternative payment investments.
If you're looking to ditch cash but you don't have any interest in figuring out how to open a bitcoin wallet, PayPal's popular new payment app has a solution for you.
The app is called Venmo—and it's quickly becoming an everyday name in the mobile payments game.
Getting started is as easy as adding a new credit card to your Amazon account. The app automatically syncs your contacts through your phone. Then you're ready to make payments to friends, coworkers, and family.
To make a payment, all you have to do is pick up your phone. No checks, cards, or cash necessary. It's that simple. Folks are using the app for everything from buying a cup of coffee to paying rent.
Venmo's growing success makes PayPal the top dog in mobile payments. In the last quarter alone Venmo processed $4.9 billion in payments, the Wall Street Journal reports. That's a lot of coffee…
Cash is dead. Whether you like it or not, currency is going digital. The days of pulling a wad of greasy bills out of your pocket are numbered.
You can fight this powerful trend. Or you can profit from it. Right now you have a shot at a white-knuckle ride as the use of mobile payment platforms begins to skyrocket.
Of course, PayPal isn't the only player in the game.
Other major players are going to step up and challenge Venmo in the very near future.
There's Zelle, the brainchild of Bank of America, Wells Fargo, and JPMorgan that is desperately trying to grab some attention before its official launch. Apple Pay transactions totaled nearly $11 billion last year, barely beating the $10.2 billion in payments processed by Square Inc. (NYSE:SQ).
But when it comes to explosive growth, PayPal Holdings (NASDAQ:PYPL) is our top pick.
Late last year, PayPal reported that its active customer accounts rose 11% to 192 million. The number of average transactions per active account increased. Mobile payment volume is way up, jumped more than 50% to $26 billion in the third quarter.
Oh, and it doesn't hurt that mobile payment snow make up nearly 30% of PayPal's business. PayPal has also teamed up with Facebook and even Snapchat in the latest innovations for peer-to-peer payments. These partnerships should have a big impact on PayPal's growth over the next couple of years as more consumers flock to mobile payment options.
It's safe to say the company has released some incredible numbers lately that have helped prop up the stock even as the market sinks this week…
PayPal shares briefly tagged new 2017 highs yesterday before retreating to a modest gain in the late afternoon. The stock appears to be setting up for a strong move higher. If it can get a little traction above $43, it has a great shot at taking out its October highs…
Sincerely,
Greg Guenthner
for The Daily Reckoning